Distaff: Tamweel Connections Ready to Roll
by Evan Hammonds
Date Posted: 10/28/2004 11:53:05 AM
Last Updated: 10/28/2004 1:21:02 PM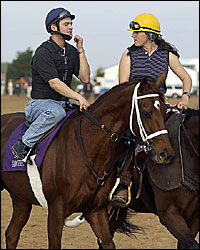 Tamweel worked Thursday morning at Lone Star Park.
Photo: Anne M. Eberhardt

Tamweel, a solid second in the Overbrook Spinster Stakes (gr. I) at Keeneland Oct. 10, got some solid exercise over the track at Lone Star Park Thursday morning and is geared up for the Breeders' Cup Distaff – Presented by Nextel (gr. I). While second to Azeri at Keeneland, and with her defection from the Distaff to the Classic – Powered by Dodge (gr. I), the front-running Tamweel's chances may be better than her 15-1 morning line price would suggest.In her last two starts -- her only two career losses on the main track--Tamweel has run second to Azeri and Adoration, the last two Distaff winners. Tamweel is trained by Wayne Catalano, and is owned by Darrell and Evelyn Yates of Bethaltho, Ill. and Mark Cornett of Dallas. Cornett races under the nom du course Turf Express Inc. Catalano's team at Lone Star Park for Saturday's World Thoroughbred Championships are assistant Leon Slomkowski, exercise rider Jose Hurst, and barn worker Gisele Durham. Checking her feed tub Thursday morning, Durham reported that Tamweel, a daughter of

Gulch

--Naazeq, by Nashwan, had "eaten up and is sound as new money. She's so sweet, she's spoiled rotten. She'll lay her head on your shoulder, but once you put the tack on her, she wakes up. Once she gets out of her stall, she means business."Catalano, a former rider, works his horses, but if they are just going out for exercise, Hurst is aboard, and he was Thursday morning."She's smart, and she has real good eye sight," Hurst said before mounting up. "She's classy and strong. She's proven herself, we just hope we get lucky one more time."The 4-year-old Tamwell started her racing career in Europe, winning twice and placing twice in five starts. She was sent to the U.S. and made her first start this March in Southern California for trainer Sanford Shulman. Yates said she had a price tag on her head, and that Cornett went out and bought her after making five starts, four on turf. Her first main track start was a win on June 10 at Hollywood Park, winning a 1 1/16-miles optional claimer. Yates, who has had horses with Catalano for "years and years" had not met Cornett when he decided to go in for half of Tamwell.Put in the care of Catalano, Tamwell rattled off back-to-back wins in an optional claimer going a mile and the 1 1/8-miles Mariah Storm Stakes on the main track at Arlington Park. She then ran second, beaten two lengths, behind Adoration in the Arlington Matron Handicap (gr. III). Shipped to Keeneland, she was beaten three lengths by Azeri after controlling the pace.She figures to be a big-time pace factor in the Distaff. Lone Star Park has the reputation of having a short stretch and a speed-friendly surface.The Yates live about 25 miles north of Saint Louis and own the RCS Construction company in Woodriver, Ill. They've been in the spotlight before, having been to the Kentucky Derby (gr. I) in 1997 with Crypto Star. Crypto Star, winner of the Louisiana Derby (gr. III) and Arkansas Derby (gr. II) ran fifth in the Derby, and fourth in the Belmont Stakes (gr. I). He currently stands at Allen and Audrey Murray's Murmur Farm in Maryland. The Yates have never met the Murrays face to face, but will Thursday night as they both plan to attend the Breeders' Cup press party at Billy Bob's in Fort Worth."This is exciting," Darrell said of his first trip to Texas. "Gosh, this is what we live for -- these kind of races. "This is the Super Bowl of horseracing. I would say 'World Series' but I don't want to talk about the Cardinals."The St. Louis Cardinals were swept by the Boston Red Sox in the World Series Wednesday night. While watching the game on television from their hotel room, Darrell spied his son and grandson in the crowd. "I called him on his cell phone and told him he wasn't doing a very good job rooting them on," he said with a laugh.



Copyright © 2015 The Blood-Horse, Inc. All Rights Reserved.