Michigan Ballot Initiative Now Considered a Toss-Up
Date Posted: 10/28/2004 12:07:34 PM
Last Updated: 10/28/2004 2:20:49 PM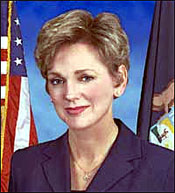 Gov. Jennifer Granholm
Photo: File

by Tom SchramThanks largely to an advertising onslaught led by Gov. Jennifer Granholm, Michigan's Proposal 1, the ballot initiative that would effectively prohibit racinos in the state, has slipped dramatically in polls and is now considered a toss-up in the Nov. 2 election.Proposal 1 would require both statewide and local voter approval for any new gambling, a stipulation that would make the establishment of racinos almost impossible. The proposal would exempt Indian tribal gaming and the three existing Detroit casinos.An odd-bedfellow coalition of the casinos and anti-gambling interests in the state led an early surge in favor of the proposal. But a recent television campaign featuring Granholm and other state politicians both Democrat and Republican have brought the proposal back into play.A late September poll of likely voters showed support for the initiative at 59%, with 29% opposed and 13% undecided. Subsequent polls have showed a slippage of that support and a poll of 600 likely voters conducted Oct. 20-25 found that 43% favored the proposal, 40% opposed it, and 17% were undecided or didn't have an opinion. The margin of error in the poll was 4 points.The statewide television ads by Granholm, some featuring leading Repulicans, do not mention racinos, nor should the slipping popularity of Proposal 1 be interpreted as public support for video lottery terminals at racetracks. Instead, the ads point out that the proposal would have a damaging effect on the state lottery.The lottery contributes more than $600 million annually to public education in Michigan. The ads raise the specter of increased taxes to replace revenue lost if the lottery is inhibited by Proposal 1, and they play up the effect a decrease in education funds would have on state schoolchildren.In one popular ad being played in markets throughout the state, Granholm says: "Proposal 1 threatens our lottery. It's wrong for out schools; it's wrong for our kids; it's just plain wrong."Proponents of Proposal 1 have countered with a multimillion-dollar campaign of ads and mailings. Supporters of the proposal appeal to voter sentiment to restrict state-sponsored gambling, which their ads claim could spread to the Internet, bars, and restaurants, as well as racetracks. The ads also warn of the possibilities of Greyhound racing and jai alai, though there have been no recent initiatives to bring either to Michigan.If the recent trend away from support for the proposal prevails, racinos have a legitimate chance of becoming reality. Both the state House and Senate have passed bills that would allow up to 600 video lottery terminals in each of the nine existing state racetracks. The bills have been stalled in conference committee to work out differences between them since late summer as legislators sit back and await the verdict on Proposal 1.Rep. Larry Julian, who sponsored the house version of the bill, said he has a commitment a final bill would be brought to both floors of the legislature in the lame-duck session following the election. If Proposal 1 passes, that action will be moot. If the proposal fails, long-awaited relief for Michigan's horse racing industry could be on the way as early as next year.



Copyright © 2015 The Blood-Horse, Inc. All Rights Reserved.