For Breeders' Cup, Yet Another Host Site Test
by Tom LaMarra
Date Posted: 10/27/2004 10:55:45 AM
Last Updated: 10/27/2004 11:39:33 AM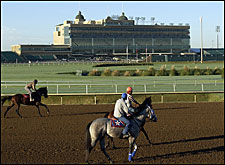 For Lone Star Park officials, hosting their first Breeders' Cup is both a joy and a test.
Photo: Anne M. Eberhardt

Given the money and time that go into preparing a racetrack for the Breeders' Cup, it would seem inappropriate to use the word "test." But when the World Thoroughbred Championships is held Oct. 30 at Lone Star Park, it will be just that.Crews continued working Oct. 27 on temporary facilities and signage to get Lone Star ready for the Cup, which will be held for the first time in Texas. Breeders' Cup and the National Thoroughbred Racing Association have a plan to spread the wealth, so to speak, by offering non-traditional sites a chance to host the championships."To a certain extent, any new venue is going to be a test," Breeders' Cup president D.G. Van Clief Jr. said Oct. 26. "Will we walk away at 6 p.m. on Saturday with the feeling it has been a success? It's always a test, but it's always important to identify venues that might become return venues. This could easily become one. We're learning off our lessons in Chicago."Breeders' Cup first employed extensive temporary facilities in 2002 at Arlington Park and limited attendance to the number of seats. There were some complications in terms of customer service, so Breeders' Cup has made some changes, such as widening the common areas for betting windows and concessions, for instance."The customer service square footage wasn't enough," Van Clief said. "There was no enough square footage given the weather. We had backups in mutuel lines and at concession stands. We've employed that lesson, and hopefully we've learned from it."On Oct. 25, an afternoon storm dumped heavy rain on Lone Star. It was dry Oct. 26, but a chance of showers remains in the forecast for most of the week. Van Clief said the weather is no more an issue at Lone Star than it was at Arlington or Woodbine in 1996. "So far, so good," Van Clief said. "The weather put us a little behind on certain aspects. Seating and signage need to be completed before the end of business (Oct. 29). But so far, there are no major crises. We'd rather see the unstable weather move out of the area to facilitate final preparations, but the weather is a concern at any place with temporary facilities."Van Clief, also commissioner of the National Thoroughbred Racing Association, said a major reason the Dallas-Fort Worth area was selected as a host is the way the region embraces major events. He said the individuals and agencies Breeders' Cup has dealt with have been very enthusiastic."It's such a sports market and an event-oriented market, we knew we'd get a very high level of support," Van Clief said. "I think the most tangible example is that north of 51,000 seats were sold well in advance of the event."In 2005 and 2006, the World Thoroughbred Championships will be held at Belmont Park and Churchill Downs, respectively. Belmont will host the event for the fourth time, and Churchill for a record sixth time. In 2007, Monmouth Park in New Jersey will serve as a "test" site, and in 2008, it's possible Del Mar could become a first-time host.When Breeders' Cup and the NTRA embarked on a joint operating arrangement several years ago, the organizations adopted a policy whereby only NTRA-member tracks could host the World Thoroughbred Championships. Monmouth, operated by the New Jersey Sports and Exposition Authority, left the NTRA fold as part of a mass defection in 2000 but has since rejoined.



Copyright © 2015 The Blood-Horse, Inc. All Rights Reserved.