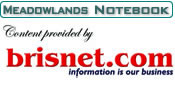 by Gary Granade
(Editor's Note: Content for this handicapping notebook is provided by Brisnet)Trainer Bob Durso confirmed that STORMY RAY (

Storm Creek

) is in fine shape after being scratched from Friday night's Cliff Hanger H. (G3) when he was caught underneath the gate just seconds prior to the start of that $200,000 event. "He's a little tender in a few spots, but other than that he's fine," Durso said from his Monmouth Park base. "He might have hurt his back a little, but nothing at all serious, luckily. He was prancing around the barn this morning and I was real glad to see that. The vet came and looked at him and everything's fine. "It's real scary when something like this happens," Durso added. "I know the gate crew did a great job. Eddie (jockey King) told me he reared up in the gate and when he did his back legs slipped out from under him and he caught under there. He didn't actually flip in the gate, he just slipped. It happens, but luckily nothing serious happened. Eddie hit his shoulder, but he was okay and rode the next race." DR. KASHNIKOW (El Gran Senor) rallied from last to win the Cliff Hanger, ending a long victory drought. Trained by John R. Fisher, the seven-year-old gray gelding scored his first victory since 2002's River City H. (G3) at Churchill Downs. "It's been two years since he won a race, but he's always been there," Fisher said. "He ran a great race." Jockey Richard Migliore let Dr. Kashnikow, who carried 116 pounds, settle early before asking for a run entering the final turn. The gray really kicked in and got up to win by a half-length over TAM'S TERMS (

Private Terms

), who split horses in the stretch and held a brief lead. HOST (Chi>) (

Hussonet

), the 9-5 favorite and highweight at 117 pounds, was steadied and boxed in on the final turn before angling outside to close for third. Jockey Joe Bravo, rider of the fourth-place finisher HOTSTUFANTHENSOME (Awesome Again ), claimed foul against the winner because Dr. Kashnikow drifted into his path in the stretch. The stewards dismissed the objection. Dr. Kashnikow gave back $33.80 for the win and ran the 1 1/16 miles over the good turf in 1:42.41 on a showery night at the Jersey shore. In Friday night's other stakes action, SCHEDULE (GB) (Brian's Time) took control out of the gate and never looked back to take the $60,000 Miss Liberty S., which was transferred to a mile and 70 yards on the main track, in 1:37.90, a new track record. Ridden by Bravo, the mud-loving Alan Goldberg-trained filly returned $5 as the 3-2 favorite. She topped a $21.60 exacta with IRISH MELODY (

Unbridled's Song

), who finished 7 1/2 lengths behind the winner. TIGI (

Dixieland Band

) was another four lengths back in third. The previous record for a mile and 70 yards of 1:38 2/5 on the main track was set by Conveyor on December 9, 1994. ALL HAIL STORMY (Stormy Atlantic ) battled for early control and held on to a half-length victory in the $55,000 Bergen County S. on Saturday night. Trained by H. Allen Jerkens, All Hail Stormy covered the five furlongs over "good" turf in :57.55 and returned $5 as the 3-2 choice. ANAF (

Artax

) rallied to complete a $49.60 exacta while EXPLOIT LAD (

Exploit

) was another three-quarters of a length behind. "The only question was the turf and he handled it fine," winning rider Eibar Coa said. "He broke sharp like he always does. In the stretch he just put it all together and held on nicely." The main track was biased in favor of speed on Friday night but played fair the rest of the week. The turf course moderately favored closers. Bravo is once again in familiar territory, back on top of the rider standings at the Meadowlands. With 13 of the 33 days of racing in the books for the 2004 Big M meet, Bravo owns 14 victories, two better than Coa and Stewart Elliott. Apprentice Rajiv Maragh is fourth with 11. A native of Long Branch, New Jersey, Bravo is looking for his ninth title at the East Rutherford racetrack, and his first since 2000. In the trainer's race, Patricia Farro and Todd Pletcher are tied for the lead with five victories each. Bill Mott and Steve Klesaris are next with four apiece. Farro is looking to become the first female in Meadowlands history to win the training title HORSES TO WATCH Monday (10/11) 4TH - WILD BUDDY (Line in the Sand) found himself on the early lead, something to which he is not accustomed. Racing on a course that has favored closers, he put away all of the other early runners and held off the closers for the win. He is even more effective rating just off a faster pace. Tuesday (10/12) 7TH - HOOK CALL (Exile King) is a nine-year-old professional in the best form of his career. He has won a third of his starts and won this race in a manner that suggests he can succeed again at a higher level. Wednesday (10/13) 7TH - MR. MESO (Mesopotamia) had raced well with tougher in Boston and was a dominating winner over $16K claimers. Haltered by the Michael Gill outfit, he can win again right back. 9TH - WIZARD OF GOLD (

Seeking the Gold

) was making his second career start for Mott and drew away under a hand ride to beat maidens, posting a strong Late Pace rating. The $800,000 Frank Stronach purchase appears to have a bright future. Thursday (10/14) 7TH - FUNK (

Unbridled's Song

) disappointed in his second start, after winning his debut impressively, but looked strong beating an entry level allowance field here at a mile. He is much more comfortable over a route of ground and is worth following. Friday (10/15) 3RD - GLAMDRING (

Marquetry

) was reclaimed by his previous owner last out and continues to look better every time out. He closed from far back over a speed favoring track and came up only a head short. 8TH - Host suffered a brutal trip and was clearly best. The Chilean-bred colt in the Pletcher barn is sitting on a win next out on any surface. Saturday (10/16) 3RD - DIAMOND CLIP (Wardrobe Test) rebounded from two sub-par races and was never threatened in an easy win. He galloped out well after the race and will be hard to beat in an entry-level allowance for Jersey breds.