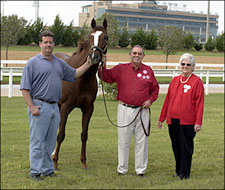 Lear Fan

, Kitten's First was the first horse raced by Sarah Ramsey, who campaigns homebred Kitten's Joy in partnership with her husband, Ken. Ken Ramsey called Sarah "Kitten" when they were dating, which inspired the mare's name.Kitten's First made her career debut against males at Belmont Park in 1993, winning a seven-furlong maiden event on turf by a nose over Check Ride. For her second start, trainer Bill Mott sent her to Monmouth Park for the Junior Champion Stakes, a mile race on grass.In a freak accident while breaking from the starting gate, Kitten's First suffered a broken hip and didn't finish."We went back to the barn after the race," Ken Ramsey remembered. "The veterinarian asked me if I had any insurance on her, and I said, 'No.' He said, 'Well, I think we should put her down. She's down, and she can't get up.'"She was so pitiful lying there in the stall," Ramsey continued. "She was absolutely bathed in sweat, and I could see she was in pain. She was thrashing her head around, and she hit the wall. I said, 'Let's pull her out to the middle of the stall so she can't hit the wall.' And then, all of a sudden, it dawned on me, 'Gosh, there's enough men standing around here, why don't we try to get her on her feet?'
"We took two two-foot-by-six-foot boards and put them underneath the filly. Then we got about three men on each side and literally lifted her up and pushed her against the wall. She stood there trembling and shaking, and the vet said, 'I believe she is going to stand.' They gave her another shot of painkiller and she quit sweating. She calmed down, and drank some water."Kitten's First survived, but one hip was lower than the other. She also had trouble as a broodmare because her injury restricted the size of her birth canal. Her first foal was stakes winner Justenuffheart (by Broad Brush), and she also produced offspring by Ghazi and Red Ransom. But several of her foals did not survive, which caused the Ramseys to try another strategy.Kitten's Joy was born via cesarean section, and the same procedure was used to deliver two subsequent fillies by Catienus . Kitten's First was not bred this year, but she is already booked for 2005 to Kitten's Joy's sire

El Prado

."It's probably kind of unusual to have a "cesarean horse" in the Breeders' Cup," said Ken Ramsey of Kitten's Joy's birth.