Dodge Classic Preview: After Perfection
by Steve Haskin
Date Posted: 10/20/2004 11:03:45 AM
Last Updated: 10/20/2004 6:18:34 PM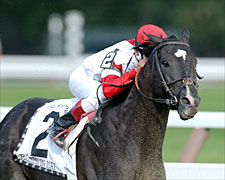 Roses in May seeks his own perfection in this year's Dodge Classic.
Photo: Adam Coglianese

No matter how much time one spends studying the past performances and various speed figures for this year's Breeders' Cup Classic - Powered by Dodge (gr. I), they still won't be able to feel secure picking a winner. That's not to say there aren't any standouts in the field. Any one of four horses can win and become the front-runner for Horse of the Year honors. But let's look at all the unknown factors that hang over the race. Of the four top contenders, Pleasantly Perfect, winner of last year's Classic, will be coming off a 69-day layoff, while Belmont (gr. I) and Travers (gr. I) winner Birdstone will be coming off a 63-day layoff. Even Ghostzapper and Roses in May, who are both undefeated in 2004, will not have run for 49 and 42 days, respectively. Any of them are capable of winning, but it's still something to ponder, especially if you consider that the average layoff of the 20 previous Classic winners is 25.7 days, with 49 days being the longest. What Pleasantly Perfect, Birdstone, and Ghostzapper do have going for them are their respective trainers--Dick Mandella, Nick Zito, and Bobby Frankel. You won't find three trainers in the country better at getting a horse to win off a layoff. And all three are confident they will have their horses ready for a peak performance. Another question mark surrounds Woodward (gr. I) winner Ghostzapper and Whitney (gr. I) winner Roses in May, who have never been 1 1/4 miles before. These two brilliant colts should be the key to the race, as both are likely to hook up at some point during the contest. Finally, there is Lone Star Park. Although we may very well have a formful race, the fact is that none of the Classic horses, with the exception of Dynever, has ever run over the track. And the Breeders' Cup World Thoroughbred Championships will be the first grade I races ever run at Lone Star, which has never even hosted a grade II race. To demonstrate just how deep into unknown territory the Classic is venturing, there are no mile-and-a-quarter races at Lone Star to use for comparison. So rare is that distance, the track record was set back in the track's first year in existence (1997), and is a slow 2:04.68. Pleasantly Perfect, who likely will be the morning-line favorite, will be trying for his fourth million-dollar-plus purse, having already captured the $4-million Breeders' Cup Classic, $6-million Dubai World Cup (UAE-I), and $1-million Pacific Classic (gr. I). Ghostzapper's strength has been his phenomenal speed figures, which had Ragozin and Thoro-Graph calling him the fastest horse since the advent of speed figures. Birdstone has already proven he can fire big off a long layoff, winning the Travers 84 days after capturing the Belmont Stakes. Roses in May has been perfect in five starts this year, and demonstrated his courage by battling back to defeat Perfect Drift in the Whitney after tracking brutal fractions. Then, of course, we have Funny Cide, who will be the sentimental favorite for many fans, especially after his emotional victory in the Jockey Club Gold Cup (gr. I). Two dark horses to watch are Perfect Drift and Dynever. Although Perfect Drift is winless this year, he is a tough, hard-knocking competitor who is capable of beating anyone on his best day, especially at this distance. Dynever, who finished a fast-closing third in last year's Classic as a 3-year-old, has had a nice rest this summer and is coming off an excellent prep in the Meadowlands Breeders' Cup (gr. II).



Copyright © 2015 The Blood-Horse, Inc. All Rights Reserved.