Countdown to the Cup: Paulson Assures He'll 'Do Right' by Azeri
by Steve Haskin
Date Posted: 10/18/2004 9:09:44 PM
Last Updated: 10/20/2004 10:44:40 AM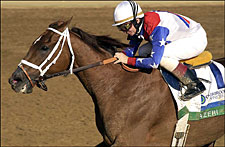 Spinster Stakes winner Azeri will be pre-entered in the Distaff and Classic.
Photo: Anne M. Eberhardt

Michael Paulson, owner of Azeri, says regardless of where the former Horse of the Year runs, all the pros and cons will be carefully weighed, and the final decision will have the full backing of trainer D. Wayne Lukas.Paulson plans on pre-entering Azeri in both the Breeders' Cup Classic – Powered by Dodge (gr. I) and the Nextel Breeders' Cup Distaff (gr. I). Among the factors to be considered are Azeri's place in history, what is to be gained and lost by running in each race, and most important, according to Paulson, "what is best for Azeri."The daughter of

Jade Hunter

has won three grade I stakes this year – the Overbrook Spinster at Keeneland, Go For Wand at Saratoga, and Apple Blossom at Oaklawn Park – and is in a battle for divisional honors with Sightseek, who was retired following her victory in the Beldame Stakes (gr. I).Paulson said he can't understand all why so many people are opposed to his running Azeri in the Classic. "It's amazing all the stuff you read in the press," he said. "All I said was that we were looking at both races. You would think people would be excited about the prospect of her running in the Classic. I mean, we're not going into any race unless Wayne and I both feel 100% confident that we have a very high chance of winning. I would never do anything unless Wayne is 100% behind it. This will truly be a team effort."I think it's exciting for racing that we're even considering it. You're getting a real buzz and that's what racing is all about -- creating excitement. It adds to the whole atmosphere and the excitement of the sport. There are always going to be opinions, but we're going to do what's best for Azeri and her legacy, and what's best for racing. It's all about getting racing fans excited about the race and seeing her run. That makes it all worthwhile. "We're not going to do anything rash and jump into the Classic if things don't line up right. Whichever race she runs in, I know if she's feeling good, she's going to put in one heck of a race. She has the heart of a champion. Even when things go bad for her she never gives up."Paulson recalled the 2002 Distaff, in which Azeri dominated her opponents, and people started to speculate what would have happened had she run in the Classic. "I remember a commentator for NBC said afterward that Azeri would have won the Classic that year," Paulson said."If it looks good going in, we're going to pick the best race for her. We're going to look at all the numbers and see how all the horses are training up to the race. She's already beaten all the top older fillies and mares this year. Early in the year, Bobby Frankel felt Wild Spirit was his best filly and we beat her. "We're going to see how Lone Star is playing, and if it's playing to her style. She can run either way as you saw in the Spinster. She was able to relax and stalk the pace. After the race, Pat (Day) said he could have blown by that other filly at any point. He let up on the reins and she just spurted. After the race, she was full of herself. That race took absolutely nothing out of her. In the winner's circle, usually I can get her to settle down to take the photo, but boy, she was so full of herself. She was throwing her head around and looked like she wanted to go back out there and race again. She left the winner's circle prancing on her toes, like ,'OK, bring on the next group.' She was amazing that day. It was like a workout for her. She just loves to run. She's so competitive when she put her race face on, it's amazing."The main question surrounding Azeri's participation in the Classic, in addition to the stiffer competition, is the mile and a quarter, a distance over which she has run only once and was defeated (by Storm Flag Flying in the grade I Personal Ensign Handicap)."We have no apprehension about the mile and a quarter," Paulson said. "Wayne isn't hesitant at all, especially after the way she relaxed off the pace in the Spinster. She simply got caught up in too fast a pace in the Personal Ensign."If we go in the Distaff and get some unfortunate ride or get cut off, everyone will go, 'Well, she couldn't win the Distaff, so we'll give (the Eclipse) to Sightseek. If she goes in the Classic and puts in a super run, it can only boost her reputation."Classic Arrivals
Roses in May, winner of the Whitney (gr. I) and Kentucky Cup Classic (gr. I), and Dynever are scheduled to be the first Classic horses to arrive at Lone Star, shipping in on Tuesday, Oct. 19. Belmont (gr. I) and Travers (gr. I) winner Birdstone is expected on Saturday, Oct. 23, followed the next day by Perfect Drift. Last year's Classic winner Pleasantly Perfect will arrive on Monday, Oct. 25 on the same plane that will bring Japanese invader Personal Rush. Woodward (gr. I) winner Ghostzapper and Hawthorne Gold Cup (gr. II) winner Freefourinternet and Azeri are all scheduled to arrive on Tuesday. Funny Cide, winner of the Jockey Club Gold Cup (gr. I), will ship in from New York on Wednesday, Oct. 27 along with the Todd Pletcher-trained Newfoundland.Ghostzapper worked a bullet six furlongs in 1:12 3/5 at Belmont Monday. Also on the Belmont work tab was Dynever, who breezed a solid half in :48 for trainer Chris Clement. The son of Dynaformer is coming off a fast-closing second in the Meadowlands Breeders' Cup Stakes (gr. I), his first start since July 3. Two Pletcher-trained horses also had excellent works on Monday. Proud Accolade, winner of the Champagne Stakes (gr. I), breezed a bullet five furlongs in :59 4/5, while Meadowlands Breeders' Cup Handicap winner Balto Star breezed the same distance in 1:00 flat.For more information on the great Azeri, please check out the new book from Eclipse Press, Women of the Year



Copyright © 2015 The Blood-Horse, Inc. All Rights Reserved.