Foundation to Honor Krone With Award
by Blood-Horse Staff
Date Posted: 10/19/2004 7:50:08 AM
Last Updated: 10/19/2004 12:24:20 PM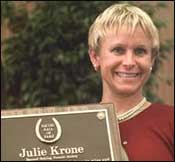 Julie Krone to receive Rudolph Award at evening ceremony.
Photo: Associated Press

Julie Krone, the all-time leading female jockeys by wins, was honored the evening of Oct. 18 when the Women's Sports Foundation presents her with the Wilma Rudolph Courage Award.The award will be presented at the "Salute to Women in Sports Awards Dinner" at the Waldorf Astoria in New York City. It has been presented to a female athlete who exhibits extraordinary courage in her athletic performance, demonstrates the ability to overcome adversity, makes significant contributions to sports, and serves as an inspiration and role model for others."I am grateful to be recognized for my desire to compete through the ups and downs," Krone said in a release. "I want to be remembered for my passion and dedication to the sport of horse racing."Krone won her first race in 1981 at Tampa Bay Downs. She went on to win more than 3,700 races. Krone was injured in 1991, returned to riding, and then was injured again in 1996. She returned to the races again, then retired in 1999, only to return in 2002. She was injured again in December 2003 and hasn't ridden since that time.Founded in 1974 by Billie Jean King, the Women's Sports Foundation, based in Nassau, N.Y., is a national charitable educational organization seeking to advance the lives of girls and women through sports and physical activity. The foundation's participation, education, advocacy, research, and leadership programs are made possible by individual and corporate contributions.



Copyright © 2015 The Blood-Horse, Inc. All Rights Reserved.