Ramsey: Velazquez, Not Bailey, Will Ride Kitten's Joy in Breeders' Cup Turf
by Deirdre B. Biles
Date Posted: 10/12/2004 6:16:40 PM
Last Updated: 10/12/2004 7:10:01 PM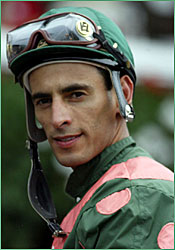 John Velazquez will be aboard Kitten's Joy in the John Deere Breeders' Cup Turf.
Photo: NTRA

John Velazquez will be aboard Kitten's Joy in the John Deere Breeders' Cup Turf (gr. IT) at Lone Star Park even though the colt's regular rider, Hall of Famer Jerry Bailey, will be back in action after suffering a broken wrist in September."You have to be practical, and you have to use a little common sense; it was sort of a business decision," said Ken Ramsey, who bred and races Kitten's Joy in partnership with his wife, Sarah. "Jerry Bailey was hurt. He broke his wrist. It's like a horse coming back after an injury. You don't know how it's going to affect him. I used to be an athlete on a very minor scale myself. I played basketball in high school. If you hurt an ankle, it takes awhile to get your timing back, to get your rhythm back."Kitten's Joy, winner of six stakes this year, including two grade I events, is the probable favorite for the John Deere Turf. With Bailey on the sidelines, Velasquez guided the

El Prado

colt to an impressive 2 1/2-length win in the Oct. 2 Joe Hirsch Turf Classic Invitational Stakes (gr. IT) at Belmont Park."This is a huge race for us," said Ramsey of the John Deere Turf. "This is for the championship, for all the marbles. In other words, this is for the gold. I just couldn't make the decision that a 90% Jerry Bailey could outride a 100% Velazquez, who is in his prime right now. So, that's my position. It's no reflection on Jerry or his ability."Added Ramsey: "I wish Jerry the best of luck, and I hope he does come back 100%. It would be kind of ironic if he beats us. And I know he will be riding hard to do just that. Jerry's probably the best jockey who has been out there in the last 10 years, and I'm sure he'll come up with a mount in most of the Breeders' Cup races."



Copyright © 2015 The Blood-Horse, Inc. All Rights Reserved.