Schwartz to Resign as CEO of NYRA at Year's End
by Blood-Horse Staff
Date Posted: 10/8/2004 4:13:39 PM
Last Updated: 10/8/2004 4:50:15 PM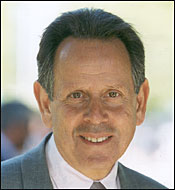 NYRA chairman and CEO Barry Schwartz to resign at year's end.
Photo: Barbara D. Livingston

Barry Schwartz, chairman and chief executive officer of the New York Racing Association, said he would resign effective Dec. 31 and "hand the reigns to someone new who can focus vigorous energy" on setting the future course of the association.Schwartz issued a statement Oct. 8. NYRA officials contacted by The Blood-Horse expressed surprise over Schwartz's announcement.In an interview shortly after release of the statement, Schwartz said the volunteer job became too time-intensive, especially during the past couple years when NYRA was under investigation by state and federal prosecutors. Those probes, he said, took him away from a job he believed was supposed to be foremost about promoting horse racing."I'm tired, and that's enough,'' said Schwartz, who is 62.In discussing the timing of his departure, Schwartz said an individual has been found to take over as president, a position last held by Terry Meyocks. He declined to name that individual but said he expects an announcement the week of Oct. 11. "NYRA is better than it was, but it's been a very difficult run," Schwartz said. "Now, I'm in a position where I don't have to feel I'm leaving them in a lurch."Schwartz said an Oct. 13 NYRA board of trustee's meeting would mark his fourth anniversary as chairman and CEO of the association that operates Aqueduct, Belmont Park, and Saratoga. He said he would remain "extremely active" as a member of the board of trustees and work closely with "new corporate leaders" at NYRA.Tim Smith, former commissioner of the National Thoroughbred Racing Association, was believed to be in line to take over as CEO of NYRA, but in late August he withdrew himself from consideration. Smith has since been working to devise a new economic model for New York racing. He couldn't be immediately reached for comment but an individual with knowledge of Smith's intentions said he isn't in the running for the NYRA job.Among the possible candidates for NYRA chairman is Steve Duncker, 45, a former Goldman Sachs partner who has served as co-chief operating officer of NYRA. Duncker has been instrumental in NYRA's internal overhaul. He also negotiated recent deals between NYRA and ABC for broadcast of the Belmont Stakes (gr. I) beginning in 2006, and NYRA and the TV Games Network on signal rights.Duncker, reached Oct. 8, said he had no knowledge of Schwartz's resignation.Schwartz in his statement said NYRA in the past four years has "faced a great many serious challenges," and that NYRA overcame them through the "integrity, hard work, and perseverance" of its management employees."I am truly grateful for the service and dedication I have received from each and every one of NYRA's administrative and racing employees, and I owe them a tremendous debt of gratitude for helping me, and the entire NYRA board of trustees, re-make NYRA into the strong and vibrant racing association that it is today," Schwartz said in the statement."When I took the helm at NYRA four years ago, the future of the organization was very much in question," he said. "NYRA was facing investigations from the New York attorney general, the New York state comptroller, the New York State Racing and Wagering Board, and the United States Attorney's Office concerning allegations of general mismanagement and tax fraud by certain of its pari-mutuel employees. Moreover, NYRA's financial situation was seriously deteriorating, with operating costs spiraling out of control and revenues from on-track handle diminishing."Today, with the help of its federal monitor, NYRA has put the cloud of suspicion and investigation behind it. Moreover, NYRA has found new and innovative ways to operate more efficiently, by reducing its operating costs and deriving more revenue from its racing product. NYRA is well positioned to face the challenges that lay ahead, such as the implementation of a large-scale video lottery casino at Aqueduct and securing an extension of its franchise from the state to conduct pari-mutuel wagering on its races."Schwartz said the position of chairman "requires the commitment of a tremendous amount of time and energy." Schwartz, who has been quite active as a buyer at Thoroughbred sales recently, said the job proved more than he bargained for, but he has no regrets."I am extremely proud of the progress I have made over these past four years in leading NYRA in a new direction, and strongly I believe that I have been able to build a solid foundation with an entirely new management team that will serve NYRA well through the challenges that lie ahead, and beyond," Schwartz said. "Personally, I am fortunate to have recently been able to retire from my lifelong job as CEO of Calvin Klein, and I am now looking forward to enjoying that retirement by spending time with my family and pursuing my personal interests."NYRA will soon be taking on a new president and chief executive officer, and I think it only appropriate for that person to begin with a new chairman of the board who is similarly refreshed, energized, and ready to tackle the challenges ahead. Naturally, I will spend as much time working with the new president and CEO as is necessary to ensure a smooth and orderly transition."Schwartz said the future of NYRA never has been brighter. He said there is "no better organization to operate Thoroughbred horseracing in New York" than NYRA.



Copyright © 2015 The Blood-Horse, Inc. All Rights Reserved.