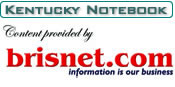 by Steve Moody
(Editor's Note: Content for this handicapping notebook is provided by Brisnet)Thirty-two times a year. Thirty-three if we're lucky. A scant 6 weeks and two days when local residents figure out how to get out of at least a half-day of work to make it to the track. You plan your route to the track to avoid the traffic, plan again later in the day to avoid it going home. Thirty-two times when you watch the 11 o'clock news for the weather forecast and are genuinely disappointed when the weatherman calls for rain and turns out to be right. Thirty-two trips to the racetrack and it's a rarity when you don't see a stakes race. Maidens run for a $50,000 purse. While many racetracks these days resemble ghost towns, finding an empty seat at Keeneland is like finding money. Occasionally, finding standing room can be a chore. Warm-weather fall days with racing in the afternoon and college football in the evening are incomparable even when the football portion of your day leaves something to be desired. Betting, beer and burgoo. It doesn't get any better than that. Thirty-two times a year. Thirty-three if we're lucky. Keeneland opens its fall meet Friday, a 17-day stand with more than $10 million in total purse money. Racing will be Wednesday through Sunday with 1ST race post time each day at 1:15 p.m. (ET). As usual with the Breeders' Cup taking place in three weeks, the stakes schedule is front-loaded to enable contenders to get one final prep before heading to Lone Star Park. The first three days of the meet have been dubbed FallStars Weekend and will be an exceptional three days of racing. Opening day will be highlighted by the $400,000 Alcibiades S. (G2) for two-year-old fillies and the $250,000-added Phoenix Breeders' Cup S. (G3) for three-year-olds and upward. The next day, three-year-olds and up meet on the turf in the $600,000 Shadwell Turf Mile (G1). The $500,000 Breeders' Futurity (G1) will test two-year-olds over 1 1/16 miles and the $150,000 Sycamore Breeders' Cup S. (G3) will feature three-year-olds and upward at 1 1/2 miles on the turf.Sunday's program showcases the $500,000 Spinster (G1) for fillies and mares on the main track and the $500,000 Galaxy S. (G2) for fillies and mares on the turf. The Storm Cat S., a one-mile race on the turf for three-year-olds, also will be on the card that day. "Opening weekend is three outstanding days of racing," Keeneland's Director of Racing Rogers Beasley said. "The fall meet offers something for everyone in the racing world -- dirt, turf, sprint, distance races." Reduced takeout and guaranteed Pick 4s are on tap for the meet as Keeneland recently announced several changes to its wagering menu. There will be a guaranteed Pick 4 and lower takeout on all multi-race wagers (Pick 3, Pick 4 and Pick 6). A $300,000 guaranteed Pick 4 pool will be offered each Sunday during live racing. "The Pick 4 is becoming a very popular wager," Keeneland's President and CEO Nick Nicholson said. "We hope people who follow Keeneland racing will enjoy wagering on the guaranteed Pick 4 every Sunday." Making the guaranteed Pick 4 even more appealing to players is the takeout reduction from 19 to 17 percent. "The lower takeout means more money is returned to our customers," Nicholson continued. "It is a way for us to give back to our loyal fans." In addition, the Pick 6 wager has been changed to a minimum $2 bet from the previous $1. This was done partly to be in line with most other racing states that require a $2 minimum on the Pick 6. It also allows the track to possibly generate bigger carryovers more quickly. Nine races will be carded on Wednesdays, Thursdays and Sundays, 10 on Fridays and Saturdays. There are three daily doubles scheduled each day (Races 1-2, 5-6, and either 8-9 or 9-10). Rolling Pick 3's begin on Race 1 and there are also three Pick 4s each day. They begin on Race 2, 4 and either 6 or 7 depending on how many races are carded. A complete view of the wagering format is available at http://www.keeneland.com:8000/liveracing/wageringformats.asp Sense of Style doesn't scare off competition in Alcibiades
Despite the presence of the undefeated Sense of Style (Thunder Gulch) in Friday's Alcibiades the starting gate will be nearly full of two-year-old fillies trying to unseat the early Breeders' Cup Juvenile Fillies (G1) favorite. A field of 11 was drawn Wednesday for the 53rd running of the 1 1/16-mile event. Sense of Style broke her maiden at first asking at Saratoga, then came right back to easily win the Spinaway (G2) in her second start. She was left at the start in the Matron (G1), but recovered to score by a length with Edgar Prado aboard. The bay filly posted a bullet work since over the Oklahoma training track at Saratoga and will clearly be the one to beat on Friday against 10 rivals, the most she's ever faced in her brief career. Miss Matched (

Formal Gold

) was second to the favorite in the Spinaway and has been given a short rest by trainer John Ward. Miss Matched was purchased privately after a 12 1/2-length maiden win by John Oxley and has been working at Keeneland over the last three weeks. She could have the home-court edge Friday and has a shot to turn the tables. Punch Appeal (Successful Appeal ) was no match for Sense of Style in the Spinaway, but bounced back with a strong effort to win the Kentucky Cup Juvenile Fillies last out at Turfway, her first try around two turns. She can't be counted out in the Alcibiades. Sharp Lisa (

Dixieland Band

) is only a maiden winner, but was impressive enough to be purchased privately. She's in California-based Doug O'Neill's barn now and is worth a look at a price. Corey Nakatani flies in from California to ride. Crackerjack sprinters battle in America's oldest stakes race
The Phoenix Breeders' Cup will be run for the 152nd time Friday and may feature the most contentious field ever. The race is the oldest in America dating back to 1831 when it was run at the old Kentucky Association track in downtown Lexington. Clock Stopper (

Gilded Time

) is the lukewarm favorite, but he's drawn outside and his deep-closing style is traditionally not well suited to Keeneland where inside speed usually rules. Champali (

Glitterman

) has won 10 of 19 career starts and owns a 1-0-1 record in two starts at Keeneland. He wasn't at his best last time out at Arlington, but did win his previous three starts. He's worked well lately and can be expected to bounce back here. Canadian Frontier (

Gone West

) has won five-of-seven starts this year and is currently riding a two-race win streak. If he takes that form to the Keeneland track, the five-year-old will have a big chance. Wildcat Heir (

Forest Wildcat

) has never been worse than second in eight starts and has worked well since arriving at Keeneland. The Ben Perkins trainee loves the six-furlong distance and his tactical speed puts him in the hunt from the start. Gold Storm (

Seeking the Gold

) and Super Fuse (Lite the Fuse ) finished 1-2, less than a length apart, in the Arlington Breeders' Cup Sprint H. last out and both have to be considered with a favorable post-position draw. The former will be challenging for the early lead while the latter will be charging from far back. Fire up the tote board. Shine the bugle. Le bon temps roulee!