Record-Setting Fasig-Tipton Sale in Maryland Topped By Silver Deputy Colt
by Deirdre B. Biles
Date Posted: 10/6/2004 8:42:01 AM
Last Updated: 10/21/2004 10:42:27 PM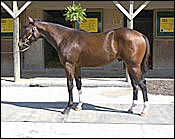 Silver Deputy colt, topped Fasig-Tipton Midlantic sale.
Photo: Lydia A. Williams

A

Silver Deputy

colt set a record for a horse sold at public auction in Maryland when he brought $500,000 Tuesday during the second and final session of the Fasig-Tipton Midlantic Eastern fall yearling sale at Timonium. In addition, the auction finished with its highest average and median prices ever."We were guardedly optimistic that we would have a (strong) sale like the rest of the industry had been experiencing, and it exceeded our expectations," said Mason Grasty, the executive vice president of Fasig-Tipton Midlantic. "We had a broader end user base this year, with buyers from all over. Pinhookers, who have been among our leading buyers in the past, were disappointed because they were unable to buy the number of horses they wanted to this time."The 493 yearlings sold grossed $10,791,500, the sale's second-highest total ever and up 29.6% from last year's comparable figure of $8,325,500 for 456 horses. The average price increased 19.9%, from $18,258 last year to $21,889 this year. The median soared 26.3%, from $9,500 to $12,000. Yet another positive business development involved the buyback rate, which declined from 24.8% to 22.5%."The valet parking guy said to me yesterday, 'Man, we have never had a crowd like this,' " reported Boyd Browning, Fasig-Tipton's executive vice president and chief operating officer. "In the barn area on Saturday and Sunday (before the sale), there was a lot of activity, and there were a whole lot of people you didn't recognize, but you could tell they were serious."New Jersey bloodstock agent and former trainer Mark Reid purchased the record-setting Silver Deputy colt, a strong-looking bay that was the talk of the stable area in the days leading up to the auction. The immediate underbidder was another New Jersey bloodstock agent, Buzz Chace, who was representing New Yorker Ernie Paragallo, a longtime client."He's a big, athletic colt; there wasn't much not to like about him," Reid said. "He's a very nice physical specimen. I think we gave a little more than we wanted to spend for him, but in the end, nice horses are hard to come by and if you have the folks that have the wherewithal, you've got to buy the best."The colt is out of the winning 10-year-old Seattle Slew mare Dreams of Glory, who is a half-sister to South African group II winner Glory Gulch (by

Gulch

). The colt's second dam, Highest Glory (by Damascus), captured the Rare Perfume Stakes (gr. II)."As soon as I saw him walk out of his stall, I said, 'He's on the list,' " Reid said. "Then people were saying, 'Everybody likes him; everybody likes him,' so I knew, okay, we had the right horse. It was just whether we could get him bought at a price that worked. We had him pegged not nearly that high; we were thinking it would be closer to $300,000. But he sort of stood out in this sale."Reid said purchased the Maryland-bred colt for a partnership in which his client, Californian Edmund Gann, has the majority interest. Other members of the partnership are clients of trainer Tony Dutrow, who will break the colt."We're buying up some nice prospects -- colts that we think that can run two turns mainly -- and this horse fit the bill," Reid said. "We have about 15 horses, and Bobby Frankel will train the ones that we think are of the quality to compete at the top level."Donald P. Litz Jr. of Litz Bloodstock Services consigned the colt for his breeder, Joseph Keelty, a Maryland horseman and property developer. Keelty bred the colt in the name of Dumbarton Farm."It was a thrill; it was over the top," Litz said. "We're just really tickled. I was thinking somewhere between $200,000 and $300,000. I didn't want to hope much beyond there because it would be breaking new ground for a Timonium sale. But this regional market has always been strong for the right horse. They really stand out here. You don't have to go to Kentucky to get the money for them."Complete Results from October 5 Session



Copyright © 2015 The Blood-Horse, Inc. All Rights Reserved.