Triple Crown Winner Affirmed Euthanized
by Ron Mitchell
Date Posted: 1/12/2001 5:48:21 PM
Last Updated: 1/27/2001 7:26:13 PM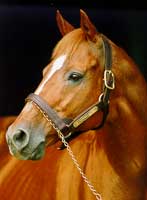 Affirmed, Triple Crown winner and successful sire, was euthanized Friday.
Photo: Barbara D. Livingston

Affirmed, whose victories over Alydar in the 1978 Triple Crown races live forever in racing lore, was euthanized Friday."It has been a privilege and honor to be the caretaker of Affirmed," said Jonabell general manager James Bell. "He will be greatly missed and certainly never forgotten. His tremendous heart, class and courage made him a genuine pleasure to be around – a true gentleman and champion."Last October, Affirmed had undergone surgery by Dr. Larry Bramlage to realign the ankle joint after the stallion was experiencing discomfort due to a chronic condition from a ligamentous injury to the back of his pastern on his left foreleg.According to Jonabell, the horse was progressing his recovery at the farm and had begun exercising again when he developed additional problems that began to aggravate laminitis in the opposite foreleg.The horse was returned to Rood & Riddle on Jan. 8 so he could undergo "continuous observation in a controlled environment," the farm said in a statement. Bramlage recommended euthanasia for humane reasons after examining Affirmed Friday.Affirmed was returned to Jonabell where he was buried next to the stallion complex at Jonabell Farm, along with the familiar flamingo pink and black silks of owner/breeder Lou and Patrice Wolfson's Harbor View Farm.In a statement, Bramlage said: "Affirmed was humanely put to sleep on January 12, 2001, because of musculo-skeletal problems relating to the infirmities of his advancing age. In October 2000, Affirmed dislocated his left front pastern joint in the paddock and began to overload the opposite forelimb. The condition was treated with a pastern arthrodesis. When he resumed exercise, he developed problems with the coffin joint and sesamoids related to his advancing age and his 26-year-old distal limb. When these problems began to aggravate the laminitis in the right forelimb, humane euthanasia was elected, rather than allow him to suffer with his chronic musculo-skeletal disease."Patrice Wolfson said in a statement: "The decision today was difficult from a sentimental viewpoint, but also obviously the proper course to prevent Affirmed from suffering. We appreciate the excellent care and professional compassion shown Affirmed by Jonabell Farm and the wonderful veterinarians who attended him. Like us, they put the humane treatment of a noble animal above all other considerations. My husband and I cherish the expressions of support for Affirmed over the years, not only when he was a wonderful racehorse, but also during his lengthy and successful career as a stallion. As all of you know who are involved with racing, a horse like Affirmed comes along more by magic than by plan. Lou and I have always, and will remain, grateful that this unique good fortune was directed our way. Affirmed will forever stand with those who exemplify the word 'champion' in Thoroughbred racing. We cannot begin to imagine how much we will miss him."Affirmed was champion 2-year-old of 1977, champion 3-year-old and Horse of the Year in 1978, and a repeat Horse of the Year winner in 1979. The chestnut son of Exclusive Native -- Won't Tell You, by Crafty Admiral had stood at Jonabell since 1992 and has been represented by 77 stakes winners to date.Trained by Lazaro S. Barrera, Affirmed made his racing debut at Belmont Park on May 24, 1977, going wire to wire in a 4 1/2-length victory. Three weeks later he was ridden from off the pace to win the Youthful Stakes by a neck as 9-5 favorite Alydar finished fifth. As the two top horses continued on what became a highly publicized rivalry, Alydar turned the tables on Affirmed by winning the Great American Stakes at Belmont Park in July. After a foray to the West Coast and a seven-length romp in a division of the Hollywood Juvenile Championship, Affirmed returned to New York to win the Sanford Stakes in his first start under young jockey Steve Cauthen.The Affirmed-Alydar rivalry resumed in the Hopeful, as Affirmed defeated the Calumet runner by a half-length. Those two battled through the stretch in the Futurity Stakes before Affirmed earned a nose triumph. Alydar took the next round, winning the Champagne by 1 1/4 lengths over a muddy Belmont Park main track. With Affirmed holding a 3-2 advantage over Alydar, the pair met again in their season finale, the Laurel Futurity, with divisional honors on the line. Affirmed emerged with a neck victory and the Eclipse Award.Going into the 1978 Kentucky Derby, Affirmed had compiled an enviable record of 11 wins from 13 starts, with four wins from six starts against Alydar. Despite Affirmed's advantage in the rivalry, Alydar was sent off as the 6-5 Derby favorite, followed by Affirmed at 9-5 in the 11-horse field. The early Derby pace was fast, with Affirmed settled more than five lengths back before moving to the lead with rounding the final turn. Affirmed opened up a two-length lead in the stretch as Alydar unleashed his closing drive in the stretch, falling 1 1/2 lengths short of winner Affirmed.The margin was closer in the Preakness, but the result nonetheless the same as pacesetter Affirmed held off Alydar's stretch run to win by a neck. In the third leg of the Triple Crown, Affirmed took the early lead over four others, setting relatively slow fractions. After the first quarter was completed in 50 seconds, Alydar ranged up alongside Affirmed down the backstretch and the pace quickened. The two engaged in a close battle throughout the rest of the race, with Alydar appearing to take a slight lead in the stretch. Lacking the room to use the whip on Affirmed from his right hand, Cauthen switched the equipment to the left hand and used it to encourage Affirmed to the finish line, winning by a head. With his Triple Crown secure, Affirmed went on to win the Jim Dandy and defeated Alydar in the Travers but was subsequently disqualified and placed second for interference in the stretch.In an historic matchup of two Triple Crown winners, Affirmed engaged Seattle Slew in the Marlboro Cup, with the older horse defeating the 3-year-old by three lengths. In the Jockey Club Gold Cup, Affirmed's saddle slipped and he finished 19 lengths behind winner Exceller, with Seattle Slew second.After two losses in Southern California that winter, Barrera replaced Cauthen with Laffit Pincay Jr. in the 1979 Charles H. Strub Stakes. The result was a 10-length romp and began a seven-race win streak for Affirmed. Included in the win streak was a track-record, 4 1/2-length victory in the Santa Anita Handicap and a gutsy win under top weight of 132 pounds in the Hollywood Gold Cup.Retired with 22 wins in 29 starts as the then-richest horse in history with earnings of $2,393,818, Affirmed then embarked on his successful stud career. Affirmed entered stud at Spendthrift Farm and was relocated to Jonabell in 1991. Ironically, the best of his 77 stakes winners to date has been Harbor View's Flawlessly, a two-time champion grass mare. Affirmed also sired Irish champion Trusted Partner, Canadian Horse of the Year Peteski, and Irish/English champion Zoman, as well as the additional champions Charlie Barley (Canada), One From Heaven (Canada), Bint Pasha (France), Tibullo (Italy), Affidavit (France), Medi Flash (Italy), and Easy to Copy (Ireland).Affirmed's Statistics



Copyright © 2015 The Blood-Horse, Inc. All Rights Reserved.