Steady 'Jersey Joe' Keeps Reaching Higher
Date Posted: 9/17/2004 8:48:46 AM
Last Updated: 9/19/2004 12:53:29 PM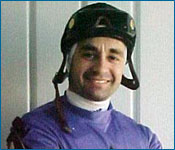 "Jersey Joe" Bravo
Photo: File

by Jason ShandlerJoe Bravo has experienced nearly everything in his 17 years as a jockey.The New Jersey native has won more than 1,000 career races and a record nine riding titles at Monmouth Park. He has captured five grade 1 stakes and had mounts in almost ever major race, including the Preakness Stakes (gr. I) and Belmont Stakes (gr. I). He has ridden in several Breeders' Cups events and even the Dubai World Cup (UAE-I).

Bravo, who in 1991 became the first jockey in New Jersey to win riding titles at Monmouth, Garden State Park, and Meadowlands, said that beyond riding in the Kentucky Derby, there is no thrill that he hasn't experienced on a racetrack.At least, that's what he thought until Aug. 8 in the Haskell Invitational (gr. I) at Monmouth."Before the race I was going through the tunnel, and what an incredible rumble I heard," Bravo said. "It was the loudest, coolest feeling I ever had. When you go to the Kentucky Derby or Breeders Cup, the fans might be rooting loud, but they're rooting for all the different horses in the race. To have all the people rooting for you, dude--that was the best."I was on Cloud Nine. When I got out there, I said to myself, 'How cool is this?' It was such a special feeling that I'll never forget."Bravo was aboard Lion Heart. After having finished second in three previous Haskells but never having won the biggest race at track he has dominated for a decade, the 33-year old jockey knew Lion Heart was the horse that could get him over the hump.He was right. Taking command early, "Jersey Joe" rushed Lion Heart to the lead and the colt held on for a one-length win over My Snookie's Boy to capture the $1-million race. The monkey was finally off his back."To win the Super Bowl in your back yard is really cool," Bravo said. "It's a million-dollar race, and these people weren't here for any other reason. To compete at that level with great horses and great trainers and riders is special. I've been close before but this was one of the best horses I've ridden. I was just happy to get the opportunity. Rock Hard Ten was the favorite but it seemed like everyone wanted us to win."Bravo, with more than $3.2 million in purse earnings in 2004, is well on his way to a 10th riding title at Monmouth, a place located just a few miles from where he grew up. He admits he was a bit surprised Lion Heart's trainer, Patrick Biancone, asked him to ride the talented 3-year-old even though they know each other fairly well."Me and Patrick have a history together, from when I rode in California," said Bravo, who began riding Quarter Horses in Texas at age 11. "We have a good relationship. I saw him Preakness day and he told me he was going to be sending a bunch of horses to Monmouth Park. He told me make sure to have my agent contact him. I was like, 'OK, it'll be my honor, thank you for that.'"So he sent a few horses down here this summer and everything I rode won, won, won. Then he asked me to ride Lion Heart in (the grade III Long Branch Stakes July 17), and we won that. But I wasn't thinking anything beyond that, I was just thankful for what he had given me. When he told me I had the Haskell, I was ecstatic."Bravo earned the mount aboard Lion Heart in the Aug. 28 Travers Stakes (gr. I) at Saratoga. Unfortunately, things didn't go as well that day, as the colt suffered a broken bone in his right foot on the way to a last-place finish. Afterward, Biancone announced Lion Heart would be retired.Lion Heart, who was purchased for $1.4 million by co-owners Michael Tabor and Derrick Smith as a 2-year-old in training, banked $1,390,800 with a career line of five wins and three seconds from 10 starts.Bravo said he feels lucky to have ridden Lion Heart to two of his five career victories. In fact, he feels fortunate just to be able to continue doing what he loves, especially after having suffered near career-ending injuries in 2001 and 2002."I love it here," he said. "I have all my friends and family here, win a ton of races, and don't work that hard for it. My goal in horse racing is not to win just the Kentucky Derby or (Breeders' Cup races). Of course, I'd like to knock out every one of them, but it would be nicer to be like a Jerry Bailey, a Mike Smith, an Alex Solis--someone that gets to ride the top quality horses all the time.""But whatever my career lets me go on and do, I'm happy with. Horse racing is a great game. I would have never met some of the people I have without it. To own horses you have to be a somebody, and I've gotten to be friends with a lot of somebodys."



Copyright © 2015 The Blood-Horse, Inc. All Rights Reserved.