Technology Lag Targeted by Wagering Task Force
by Tom LaMarra
Date Posted: 9/17/2004 2:59:55 PM
Last Updated: 9/20/2004 12:59:38 PM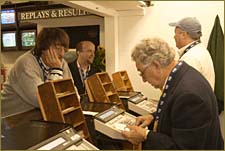 Bettors, in line at Pimlico.
Photo: Anne M. Eberhardt

The task force formed to look at why handle is up but purses are down ended up producing a report that tackles other issues such as disclosure of information from wagering outlets, technological limitations in tote systems, and the need for a secure database of wagering information.The report, released Sept. 17 by the National Thoroughbred Racing Association Wagering Systems Task Force, discusses second pari-mutuel organizations--rebate shops--and computerized robotic wagering, but doesn't call for their elimination. The report also examines takeout rates and the signal pricing structure that opened the door to rebates about 20 years ago when simulcasting was initiated.The report targets limitations in tote systems and calls for "system-wide technological improvements to core infrastructure of the pari-mutuel industry. The report claims "industry fragmentation, competing business models, and allocation of scarce resources have inhibited the pace of overall tote upgrades."During The Jockey Club Round Table in August, Jockey Club president Alan Marzelli, a Wagering Systems Task Force member, said he was "disappointed" progress in regard to a tote technology upgrade and formation of a central wagering database has been "slower than expected" despite commitments from major industry stakeholders.Members of the Wagering Systems Task Force signed confidentiality agreements. When asked if he could comment on the report, New York Racing Association senior vice president Bill Nader said he couldn't even though the report had been completed. In a Sept. 16 press release, the Thoroughbred Racing Associations said the first public discussion of the report would occur Sept. 20 at its International Simulcast Conference in South Florida.A report foreword by Rudy Giuliani, whose company was hired by the NTRA in 2003 to look at wagering security, says in part: "In order to maintain the necessary security and integrity in this global marketplace, the domestic pari-mutuel industry must retain full control over the wagering product, and provide complete transparency to lawmakers and regulators for the benefit of racing's most important constituency, its fans and players."The task force made recommendations on economic analysis, technology, integrity, betting exchanges and bookmakers, and legislative and regulatory issues. The analysis would require more study on the part of racetracks and horsemen's associations in terms of tracking where signals go and who is making bets. A key aspect of the technology recommendation is establishment of "wagering transaction protocol," a system whereby guest sites send details to the host, which then confirms receipt and decides whether bets can be made.A report by NERA Economic Consulting that looked at the "handle up, purses down" trend is a major part of the report. NERA developed three conclusions: increase racetrack handle, align racetrack economic policies with a changing business model, and establish the most attractive blend of economic incentives for "informed bettors and recreational players."NERA also believes the pari-mutuel industry must start thinking in terms of revenue from handle, not just handle.
NTRA Wagering Systems Task Force Report (PDF)



Copyright © 2016 The Blood-Horse, Inc. All Rights Reserved.