Keeneland September Marathon Begins Longest Ever Run Monday
by Deirdre B. Biles
Date Posted: 9/10/2004 2:13:22 PM
Last Updated: 9/21/2004 7:52:00 AM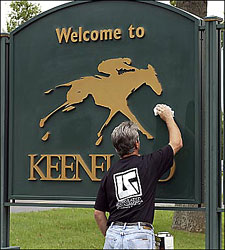 Sprucing up the "Welcome to Keeneland" sign in preparation for the
Keeneland September yearling sale that begins Monday and runs through September 27.
Photo: Anne M. Eberhardt

The strength and stamina of the yearling market gets its stiffest test of the year starting Monday, when Keeneland's marathon September auction opens for business at 10 a.m. (EDT) in Central Kentucky. Scheduled for a record total of 14 sessions, with one day off from selling on Sept. 17, the sale has more horses than ever before in its catalogue, with 4,891 listed.In general, Keeneland officials are optimistic."Our advance requests for new credit seem to be stronger," said Keeneland's director of sales Geoffrey Russell, "and the word from the farms was that they seemed to be busier for their pre-sale yearling shows this year. Rogers Beasley (Keeneland's director of racing) got a very successful response from his travels to the Far East and the Russian republics, and we (the rest of the Keeneland staff) also had a great response from everyone during our trips throughout North America. They said they were looking forward to participating. Now, we just have to see if they (the prospective buyers) fulfill their promise to show up and if they like what they see on the sales grounds."The auction's first two sessions are for select horses, which are outstanding in both pedigree and conformation. In 2003, this portion of the sale enjoyed a record-setting run with both the average and median prices reaching all-time highs while advancing 45.3% and 35.3%, respectively. The gross revenue increased 30.3%.This year, William S. Farish's powerful Lane's End Farm is selling all of its yearlings in September, giving the selection sessions some extra punch."I think this is one of our strongest select catalogues ever," Russell said. "Reiley McDonald was in here (the Keeneland sales office), and he said it was the strongest group of horses he had had in the sales so far this year, and we think that's true for a lot of other consignors. Last year, we had a very successful select sale, with humongous increases, and now the question is can we sustain them? Obviously, we would love to, but to be practical, you really can't expect to get another 45% jump. We would be happy if we could maintain last year's levels or increase them a little more even though we like the horses we have catalogued for book one (which lists horses in the first two sessions) and are very optimistic."However, Russell would not be surprised if subsequent sessions, especially during the auction's first week, enjoy significant gains in business."The results at Fasig-Tipton Kentucky in July and at the OBS (Ocala Breeders' Sales Co.) sale in August showed us that there is good strength in the middle market," Russell said.Bayne Welker of Mill Ridge Sales also had a positive outlook."We've been busy at the farm since we got back from Saratoga," Welker said Friday morning. "We've had yearling shows every day but one, and the traffic here (on the Keeneland sales grounds) is good. If you don't set your sights set to high, and try to be reasonable and objective, you'll get your horses sold."



Copyright © 2015 The Blood-Horse, Inc. All Rights Reserved.