Smarty Jones' Fee Set at $100,000
Date Posted: 9/10/2004 4:29:26 PM
Last Updated: 9/12/2004 1:14:14 PM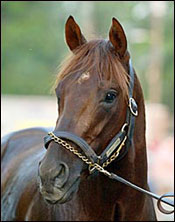 Dual classic winner commands smart fee in first year at stud.
Photo: Barbara D. Livingston

Three Chimneys Farm owner Robert N. Clay announced Thursday the initial stud fee for dual classic winner Smarty Jones will be $100,000, payable Sept. 1, 2005."We were oversubscribed for shares in Smarty Jones, and have had immense interest in him amongst breeders," Clay said. "Indeed, we began this week giving breeders the option of buying four-year contracts for Smarty Jones seasons, so that they can be assured they will have a season to the horse each of the first four years he is at stud."The 2005 season will be the second consecutive year in which a freshman stallion will start for a fee as high as $100,000. Both

Empire Maker

and Mineshaft stood for that amount in 2004.."We have season applications for quite a number of very high quality mares, including numerous grade I winners and millionaires," said Three Chimneys pedigree analyst Anne Peters. "We're particularly interested in mares from the Northern Dancer sire line, including mares by

Danzig

and

Storm Cat

. Plus, Smarty Jones has three crosses of Bold Ruler, and one is through Boldnesian, which suggests he will cross well with mares with Seattle Slew in their pedigree. Smarty Jones' pedigree (Elusive Quality --I'll Get Along, by Smile) is a strong one and provides the opportunity to cross with a lot of different sire lines, which will be a big plus in his career."Smarty Jones has been a fan favorite at Three Chimneys since arriving at the Midway, Ky., farm Aug. 16. "Smarty's fans started arriving almost immediately," said Three Chimneys president Dan Rosenberg. "He got here three weeks ago Monday, and he had more than 800 visitors in those first 21 days. We have a regular tour almost every day that is limited to 40 people, and he's had additional appointments with breeders who are making their decisions about what stallion to breed their mare to in 2005. At this rate, we will far surpass our early estimates that Smarty Jones might have 15,000 visitors a year, as the interest in seeing him has--if anything--increased as the days go by."The Midway City Council has declared this Saturday to be Smarty Jones day "in honor of the contributions of Smarty Jones to the Thoroughbred horse racing industry" and citing "the excitement created by Smarty Jones in his run for horse racing's Triple Crown, winning the Kentucky Derby and the Preakness" felt by "the residents of Midway, along with the entire world." Smarty Jones day, and a ceremony recognizing Smarty's contributions to Midway, will be part of the "Historic Midway Fall Festival" Sept. 18 and 19."We're honored by the pride that Midway feels about Smarty being a part of the community, and indeed the interest from across the entire state, and country," Rosenberg said. "Smarty Jones has settled in well and feels very much at home here. Roy and Pat Chapman (who bred and raced Smarty Jones) were here to visit him this week, and (trainer) John Servis will be here next week during the Keeneland September sale. The Chapmans said they can already see a difference in him, and how he's filled out, and they were delighted with how he's doing." Three Chimneys purchased a 50% interest in Smarty Jones from the Chapmans in June. The 60 shares in Smarty Jones are valued at $650,000 each, making for a total value of $39 million. Smarty Jones' book of mares will be limited to 110, plus one Breeders' Cup season, as stipulated in the horse's syndicate agreement.Smarty Jones, the fifth richest racehorse in North American history, retired with eight wins from nine career starts, including scores in the Kentucky Derby (gr. I) and Preakness Stakes (gr, I), and earnings of $7,613,155. His lone loss came in a runner-up effort in the Belmont Stakes (gr. I) in what was his final start.



Copyright © 2015 The Blood-Horse, Inc. All Rights Reserved.