McIngvale Takes Horses From Baffert
by Steve Haskin
Date Posted: 9/8/2004 3:39:58 PM
Last Updated: 9/10/2004 7:30:56 PM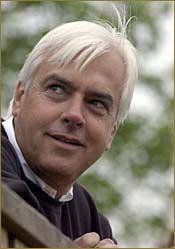 Bob Baffert announces break with owner.
Photo: Anne M. Eberhardt

James McIngvale and Bob Baffert have parted company, Baffert said Wednesday. McIngvale, whose biggest victory came in this year's Louisiana Derby (gr. II) with Wimbledon, will be sending the majority of his horses to trainer Nick Hines, and a few to Steve Asmussen, according to Baffert."He called me and told me he wanted to make a change," Baffert said, "It was an amicable parting. We had some success together, but it didn't work out. He hired me to win the Derby, and we didn't do it. We tried, but what can you do? I wished him luck. This will be good for Nick. He's a young trainer and he'll be getting some nice horses, so this will be his chance to shine."The hardest part is that I'm going to miss the horses. I've been around them since they were 2-year-olds. But the owners put up the money, and if they're not happy and they don't feel comfortable with the situation, then they need to move on." In addition to Wimbledon, who currently is turned out after suffering an injury right before the Kentucky Derby, Baffert will be giving up two exciting 2-year-old prospects -- the stakes-placed Actxecutive and the maiden winner Compulsive.In his two appearances in the Breeders' Cup World Thoroughbred Championships, McIngvale finished fourth and fifth in the Bessemer Trust Breeders' Cup Juvenile (gr. I) with Bull Market and Consecrate. The latter finished second in this year's Winstar Derby and third in the San Vicente (gr. II) and San Rafael (gr. II).Baffert, who like most trainers has been through situations like this before, is looking on the bright side. "In this business, when one door closes another opens," he said. "After I was fired by Aaron Jones, I got the Thoroughbred Corp job the next day."



Copyright © 2015 The Blood-Horse, Inc. All Rights Reserved.