Penny Chenery Recovering After Heart Attack
by Lenny Shulman
Date Posted: 9/8/2004 11:18:18 AM
Last Updated: 9/9/2004 9:17:38 PM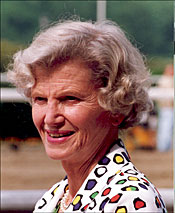 Penny Chenery recovering from heart attack.
Photo: Barbara D. Livingston

Penny Chenery, one of racing's great matriarchs, is recuperating well and feeling better after suffering a heart attack early Monday morning. Chenery, 82, hadn't been feeling well for some time, according to her daughter, Kate Tweedy, and drove herself to Central Baptist Hospital near her Lexington, Ky., home Monday morning when she felt chest pain.The owner of Triple Crown winner Secretariat and Kentucky Derby victor Riva Ridge underwent a procedure in which stents were inserted to clear a blockage in her arteries. Chenery, whose family's Meadow Stud bred Secretariat and Riva Ridge, was, ironically, operated on by cardiologist Dr. Larry Breeding at Central Baptist Hospital. Ms. Chenery sounded strong during a brief phone call Wednesday morning, and said she hopes to be home by this weekend to continue recuperation.According to Kate Tweedy, who traveled from Denver, Col., to be with her mother, Chenery's prognosis is good. "Mom is feeling better, but is tired. Doctors say that patients feel better after this procedure."She's had such an active time lately with the statue at the Secretariat Center (at the Kentucky Horse Park) and travel to Saratoga, and she is going to have to curtail some of that activity in the future," said Tweedy. "She's not going to like that, but it has to be done."



Copyright © 2015 The Blood-Horse, Inc. All Rights Reserved.