Stevens-Less Grey Lilas Wins Moulin for Fabre
by Blood-Horse Staff
Date Posted: 9/5/2004 5:31:02 PM
Last Updated: 9/6/2004 1:55:58 PM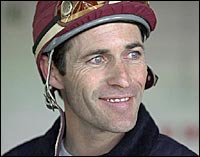 Gary Stevens returned to USA in time to miss riding Grey Lilas to French Grade I victory in the Prix du Moulin.
Photo: Associated Press

Gary Stevens says he's glad to be back in California, but had he remained in France, he could have given trainer Andre Fabre his first French group I win of the year when Grey Lilas claimed the one-mile Prix du Moulin (Fr-I) Sunday at Longchamp.Stevens was aboard the 3-year-old Danehill filly last month when she won the Prix de las Nonette at Deauville. Honors Sunday went instead to Eric Legrix.Grey Lilas tracked Lucky Story into the straight, overtook the leader and opened up a lead of several lengths before digging in to hold off stablemate Diamond Green by a length, giving Fabre the first two finishers. Diamond Green nipped the Flaxman Holdings-bred Antonius Pius by a nose for the runner-up spot, with Denebola fourth. Diamond Green, who drew the outside post in the field of 11, came charging late with Thierry Gillet but could not challenge the stubborn winner.Favored Whipper, last early, came with his run late down the center of the course for Christophe Soumillon, but was too late to the fray and settled for fifth. A maiden at the beginning of the year, the filly has made a big impact quicky with a win in the Prix de la Grotte and placing in both the Pouliches and Prix de Diane.Fabre said he would like to run Grey Lilas inthe Prix de l'Opera (Fr-I) Oct. 3..Legrix, whose wife gave birth to a son earlier in the day, told Racing Post, "I had a most beautiful run. Grey Lilas has a lot of speed and she would be even better over a little longer."After Whipper came Paolini, Lucky Story, Le Vie dei Colori, Martillo, American Post and Actrice. The final time for the mile was 137.50 on good to soft going.



Copyright © 2016 The Blood-Horse, Inc. All Rights Reserved.