Tim Smith Decides Against NYRA Post
by Blood-Horse Staff
Date Posted: 9/4/2004 3:14:45 PM
Last Updated: 9/4/2004 3:30:30 PM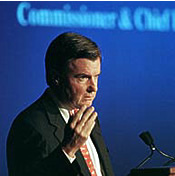 Former NTRA commissioner Tim Smith will not assume position with NYRA.
Photo: Skip Dickstein

Tim Smith, former National Thoroughbred Racing Association commissioner, announced Sept. 4 that he will not become president and chief executive officer of the troubled New York Racing Association."I have the highest regard for the New York Racing Association, the New York Thoroughbred horsemen and breeders and all those connected with the game in the state," Smith said in a brief statement released by the NYRA. "After nearly a month of consideration, however, I've reached the conclusion that I can make a bigger contribution to racing in New York by working on a new business model for the industry than in racetrack operations."Barry K. Schwartz, current NYRA chairman and CEO, responded, "We respect Tim's decision and wish him the best in his new endeavors. We are very pleased that Tim remains interested in the ongoing efforts to preserve and enhance Thoroughbred racing."There was no word on what direction the NYRA would take in order to fill the post.Smith, the only full time commissioner the NTRA has had since forming in 1998, tendered his resignation on July 27 and was expected to move to the NYRA. His resignation from the NTRA became official on Sept. 1. Breeders' Cup president D.G. Van Clief Jr. is serving as interim commissioner.



Copyright © 2015 The Blood-Horse, Inc. All Rights Reserved.