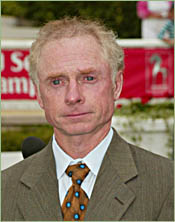 Trainers of horses that can't handle the disruption in routine would be required to pay for surveillance at their own barns.For months the committee has discussed several ways to increase race-day security, including detention barns and expensive surveillance camera systems.

According to McCarron, two barns at Santa Anita have already been selected to serve as detention areas. In addition to surrounding the barns with chain link fence, a full-time security guard would be placed on duty to restrict access. Additionally, tracks would install security cameras in the detention barns. McCarron estimated the cost at $350 a day to maintain security.

"This is a major step in implementing a program that works," trainer Darrell Vienna said. "What's the alternative? Tracks are losing much more than (what a detention barn would cost to operate) in attendance and handle because of perception. If we fix the problem, we don't have to worry about it anymore.

"There will be all kinds of obstacles from people who don't want it to succeed," Vienna said. "We just need to set up protocol so it does (succeed)."

The committee discussed a recent rash of positives for "milkshaking" or use of bicarbonate of soda during the current Del Mar season. Testing of sodium bicarbonate in horses started at Santa Anita in April and continued through Hollywood Park's spring-summer season. Since the opening of Del Mar's current seven-week season, however, positives have gone up from 1% to nearly 10%. According to Licht, there have been 16 "positives" at Del Mar for sodium bicarbonate of at least 39 millimoles of carbon dioxide or more within a horse's bloodstream.

Licht declined to name the offenders. He said confidentiality and the fact that the presence of excess amounts of sodium bicarbonate doesn't violate any racing rules prevented the release of names. But he noted that each of the trainers in question had been contacted and warned by the CHRB that another offense could result in serious consequences. Licht said there wasn't "an inordinate amount" of winners who tested positive, but that he'd investigate betting patterns and whether offenders shared a common veterinarian.

The CHRB is working on implementing a rule that would ban sodium bicarbonate above 39 millimoles and investigating whether a "positive" violates the state penal code for interfering with the outcome of a sporting event.

"We're in limbo legally," Licht said. "We're working on a uniform agreement to proceed and the state department of justice has to review the rule to make sure it's scientifically justified."

Oak Tree is considering hiring a vet to take additional blood samples from more horses during its upcoming meeting. On certain days, every horse on the card would be tested. The cost of the test for sodium bicarbonate is reasonable, according to Oak Tree's Dr. Rick Arthur, who said the problem with testing all horses is logistical. Track veterinarian Ray Bell has performed the tests so far, but is unable to test as many as he'd like due to time constraints.

An unidentified CHRB commissioner paid for the first 600 tests while Del Mar has paid for all the random tests during the current season.

"I think everyone should be applauded for getting things done," said Drew Couto, Thoroughbred Owners of California executive director . "Something is being done (in California) to rid the sport (of milkshaking). The reality is we're going after (the problem) and shining a light on it, sending a message to other states that don't test for it. It's an integrity issue."