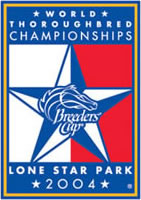 Dynever and Perfect Drift, both of whom have been around and don't care in the slightest where they're running. Dynever, who hasn't run since July 3, could be a real interesting horse to latch on to early if you see him on the work tab in the next week. After that, he'll be cutting it real close.This is a very talented colt who has had some physical problems, but can run with anyone on his best day. Remember watching him charge down the stretch to finish third behind Pleasantly Perfect and Medaglia d'Oro in last year's Breeders' Cup Classic (gr. I) as a 3-year-old? This is a horse who has won or placed in stakes at Belmont Park, Santa Anita, Meadowlands, Mountaineer Park, Gulfstream...and don't forget his explosive stretch run to win the 2003 Lone Star Derby, making him one of the few accomplished horses in the country to have a win over the track.Trainer Chris Clement said the son of

Dynaformer

was "a touch body sore" when he put him back in training, but he's "doing great" now. "It's not a bad thing to have a fresh horse in the fall," Clement said. "Even though he finished sixth in the Suburban, he was only beaten 2 1/4 lengths. What can you do? His Beyer was around 109. He's had a break, and if he's doing good this fall I might not stop on him this winter; I might just go on with him."With an impressive victory in the San Bernardino Handicap (gr. II) in April and a narrow defeat in the Brooklyn Handicap (in a swift 1:46 1/5) in June under his belt, Dynever should need only one start to be ready for the Classic, just as Pleasantly Perfect did last year. That could come in the Meadowlands Cup (gr. II), which has been as live a prep for the Classic as any other race. Dynever came out of the race last year, as did Classic winner Volponi the year before. So, in Dynever, you have a horse who will get the 1 1/4 miles, has proven his class against the best horses in the country, and has a victory over the Lone Star track. Not too bad for 30-1 at Ballys.As for Perfect Drift, forget all these second- and third-place finishes. As Volponi proved, it's what happens on Breeders' Cup Day that counts. Perfect Drift is an old-fashioned, hardball hitter who steps up to the plate every time and takes his cuts. Lately, he's only reached the warning track, but one of these days you know he's going hit one out. He's won stakes at Churchill Downs, Hawthorne, Turfway Park, Arlington Park, and Hoosier Park, and has placed in stakes at Saratoga, Del Mar, and Prairie Meadows, and won an allowance race on the grass at Keeneland. And don't forget his third-place finish in the 2002 Kentucky Derby. So, you know he's another horse who can run anywhere. His fast-closing second in the Pacific Classic (gr. I) was huge, considering what a dismal record Eastern shippers have at Del Mar. And he did it coming off a gut-wrenching nose defeat in the Whitney Handicap only two weeks earlier. And if you think he doesn't know how to win because he's come up short in his last five races, his gutsy upset victories last year over Congaree and Horse of the Year Mineshaft certainly disproves that premise.Trainer Murray Johnson will point him for the Oct. 2 Hawthorne Gold Cup (gr. II), a race he won last year. "He shipped back well from Del Mar and is back in training," Johnson said. "He ran well in the Pacific Classic, and we think we can improve on it. We'll get one one of these days. We've been racing against the best, and just to be running in these races is very, very exciting. We feel good, because we know we can go anywhere and run well. We just want to keep him right and be able to keep doing that for a long time. As long as we keep showing up, we're sure good things will come."A long-range look at the Classic shows a good mix of older horses and 3-year-olds, with the older horses, as usual, holding the upper hand. The horse to beat is last year's Classic winner Pleasantly Perfect, who has notched victories in the Dubai World Cup (UAE-I) and Pacific Classic. Roses in May, who defeated Perfect Drift in the Whitney and Cornhusker Breeders' Cup (gr. III), is emerging as a bright star in the older horse division. The son of

Devil His due

is expected to have his final Classic prep in the Kentucky Cup Classic (gr. II) at Turfway Park on Sept. 18. The horse who has everyone excited these days is the Bobby Frankel-trained Ghostzapper, who has turned in some of the most exciting performances seen in a long time, including a 10 3/4-length romp in the Philp Iselin Breeders' Cup Handicap (gr. III) at Monmouth, in which he earned a monster Beyer figure of 128.Others in the older horse division who bear watching are Saratoga Breeders' Cup (gr. II) winner Evening Attire; Hollywood Gold Cup (gr. I) winner Total Impact; Californian (gr. II) winner Even the Score, who is attempting to battle back from foot problems; Choctaw Nation, who upset Pleasantly Perfect in the San Diego Handicap (gr. II); defending 3-year-old champ Funny Cide, winner of the Excelsior Breeders' Cup (gr. III) and placed in five other graded stakes this year; Midway Road, runaway winner of the Ben Ali Handicap (gr. III), who returned with a recent allowance victory at Saratoga; and Bowman's Band, who has placed in six stakes this year. Two other classy horses -- Seattle Fitz and Newfoundland -- may be kept at shorter distances, but could still earn their way into the Classic this fall. Sarava, winner of the 2002 Belmont Stakes (gr. I), has thrown in some good races this year, but will have to step up to show he can beat top-quality horses.On the 3-year-old front, Birdstone, winner of the Belmont and Travers Stakes, now reigns as the leading active horse in the division. Behind him, looking to find a late-season surge, is another Nick Zito-trained horse, The Cliff's Edge, winner of the Toyota Blue Grass Stakes (gr. I) and runner-up in the Travers, Jim Dandy (gr. II), and Dwyer (gr. II). And trainer Mark Hennig is still hoping Eddington, third in the Travers, can find the winner's circle in the near future. With Lion Heart joining Smarty Jones in retirement, and Rock Hard Ten likely to aim for a 4-year-old season, that leaves an evenly matched group who still must prove themselves before they can be expected to tackle the older horses. Several are expected to compete in the Sept. 6 Pennsylvania Derby (gr. II), which could attract Tapit, Pollard's Vision, Master David, My Snookie's Boy, Swingforthefences, and the Nick Zito pair of Pies Prospect and Royal Assault. Two other big names from the spring are about to embark on the comeback trail. San Vicente (gr. II) and San Rafael (gr. II) winner Imperialism, who was third in the Kentucky Derby (gr. I), likely is heading for the Super Derby (gr. II), while Arkansas Derby (gr. II) runner-up, Borrego, makes his return in the one-mile El Cajon Stakes at Del Mar Sept. 3.