Huge Exacta May Be Lurking in Travers
by Steve Haskin
Date Posted: 8/25/2004 3:39:03 PM
Last Updated: 8/28/2004 11:51:36 AM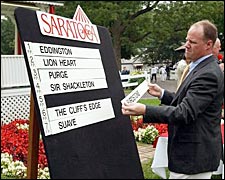 Anthony Podlaski, of the New York Racing Association communications office, places names on board during Travers post position draw.
Photo: AP/Jim McKnight

The $1-million Travers Stakes (gr. I) Aug. 28 looks like a mix and match when it comes to betting, especially in the exotics. Can anyone really separate Lion Heart, Birdstone, Purge, The Cliff's Edge, and even Sir Shackleton? Well, for you longshot lovers, there are two potential overlays that could surprise a lot of people.There has not even been a whisper about Eddington and Suave, who likely will be the two longest-priced horses in the race. It would be audacious to suggest none of the aforementioned marquee horses will finish first or second, but this is the so-called graveyard of favorites, remember? So, why scramble your brain trying to sort out all those obvious horses when you can simply take the plunge; go for broke; let it all out. This is a mile and a quarter, and there are questions regarding all of these horses. Can Birdstone win a mile-and-a-quarter race in grade I company off a 12-week layoff? Can Lion Heart carry his speed 10 furlongs with Purge breathing down his neck? Can Purge track a gutsy horse like Lion Heart and blow him away like he did a stopping Medallist and still have enough to hold off the closers? Can The Cliff's Edge make up 15 lengths, as he has had to do, against these horses? Can Sir Shackleton move up the class ladder against such a deep, quality field? You get the picture. Now, you'll have to decide if these horses are worth betting at the price.That brings us to Eddington and Suave, each an intriguing upset possibility, and each worth an individual win wager at the price. The strange part is, there is nothing on paper to recommend either one. But sometimes, races are not won on paper. They're won by tapping into a horse's ability early on and being there when that ability finally surfaces.Eddington has become most everyone's sucker horse. Those still waiting for the proverbial light to go on in the colt's head are only getting light in the wallet. The Kentucky-based Suave is flying way, way under the radar screen, having done little to suggest he has the speed and class to run with these horses. So, why throw good money after bad? Simple. Both horses have more ability than they're given credit for. Both should improve stretching out to a mile and a quarter. Both are late-maturing horses that are showing signs of being ready to bust out. And both have been right there with horses of this caliber. Eddington, despite his immaturity, has finished ahead of Lion Heart (in the grade I Preakness Stakes), was only a half-length behind The Cliff's Edge (in the grade II Jim Dandy Stakes), and is only a half-length away from being a grade I winner (in the grade I Wood Memorial Stakes). Suave journeyed to California, not an easy task for an Eastern horse, and finished a solid second to Rock Hard Ten in fast time in the Swaps Stakes (gr. II). He trounced Royal Assault (third in the grade I Belmont Stakes) in a nine-furlong allowance race at Gulfstream, running faster than the Florida Derby (gr. I) two races later. And for what it's worth, Suave is the only horse in the Travers that has never been trounced by Smarty Jones.Considering the odds they're likely to be, they could give you a big run for your money. And if you do happen to love one of the top contenders, you could still clean up by boxing your horse and these two--or one--in the exactas.Eddington, one of the grandest horses you'll ever lay eyes on, really caught the eye early on. There is no doubt he has the talent to run with these horses and beat them. Jockey Richard Migliore liked what he felt in his most recent work, and who knows, he may have discovered the key that finally will unlock this colt's treasure chest. And if he hasn't, and Eddington still shows self-destructive tendencies in the Travers, have we got a horse for you next time.



Copyright © 2015 The Blood-Horse, Inc. All Rights Reserved.