Wood Expected To Resign CHRB Post
by Lenny Shulman
Date Posted: 8/19/2004 12:29:40 PM
Last Updated: 8/19/2004 5:00:35 PM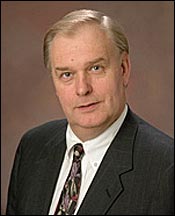 Roy Wood, expected to resign as CHRB executive director.
Photo: CHRB

Roy C. Wood Jr. is expected to resign his position as executive director of the California Horse Racing Board at the CHRB's monthly meeting Thursday at Del Mar. Wood, who joined the CHRB as its executive secretary in 1993 after a stint as director of racing for the Texas Racing Commission, has been a lightning rod for controversy through much of his term.Although he has enjoyed the support of CHRB commissioners through the various incarnations of the board through his tenure, Wood has been criticized for his micromanagement style, and has come under fire from horsemen who felt the sting of various drug-positive prosecutions.Most of the high-profile news coming out of the CHRB through Wood's tenure had to do with such positives. He earned the enmity of high-profile trainers such as Richard Mandella and Bobby Frankel in the mid-1990s for well-publicized drug positives called against them. Both conditioners were eventually absolved of charges--Frankel for a morphine positive and Mandella for scopolamine, in cases that were widely thought to be examples of contamination. Trainer Bob Baffert has spent years fighting a morphine positive in a case that is ongoing.A series of high profile, unsuccessful drug prosecutions continued under Wood in the late 1990s when trainer Paco Gonzalez was charged with a clenbuterol positive in his star runner Free House. Free House was odds-on and towered over his field in the race when the positive was called, and Gonzalez was adamantly backed by Free House's owners John Toffan and Trudy McCaffery, who were well-known opponents of using illegal drugs on their horses. Trainers such as Bruce Headley and Darrell Vienna also successfully fought clenbuterol charges against them.The CHRB's lack of success in prosecuting called positives came at significant cost because deputy attorneys general argued the board's cases, draining money from the CHRB's budget. In the past few years Wood changed course. He sought to fine trainers who were called on drug positives rather than going through the administrative law process. Many charges were never made public, as trainers quietly paid fines to have their positives go away. Such agreements have come under fire as hurting the integrity of California racing, as the public had no way of finding out what trainers had been sanctioned.



Copyright © 2015 The Blood-Horse, Inc. All Rights Reserved.