Van Clief: Interested, But NTRA Board to Decide
by Tom LaMarra
Date Posted: 8/18/2004 2:58:41 PM
Last Updated: 8/20/2004 12:58:58 PM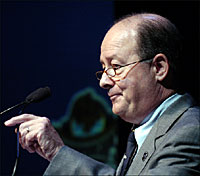 D.G. Van Clief gave NTRA report at this year's Round Table.
Photo: Skip Dickstein

As the National Thoroughbred Racing Association embarks on its search for a replacement for outgoing commissioner Tim Smith, the intentions of a few top-level NTRA officials have become clearer.Smith, the only full-time commissioner of the organization that officially launched in the spring of 1998, has resigned effective Sept. 1. Smith is interested in taking the reins as chief executive officer of the New York Racing Association but said he expects to take his time and perform some due diligence before he decides. NYRA officials have confirmed an interest in Smith.When Smith steps down, Breeders' Cup president D.G. Van Clief Jr. will take over as interim commissioner and chief executive officer, a post he filled before Smith was hired. Van Clief serves as NTRA vice chairman under Smith."I would reiterate that I do have some interest (in the job as commissioner), but in no way does that indicate I don't think we shouldn't launch a thorough search," Van Clief said Aug. 15 before he spoke at the Jockey Club Round Table in Saratoga Springs, N.Y. "If I fit the profile and the board of directors wanted me to serve, I'd have an interest, but I'm not pushing it."Smith wrote the original NTRA business plan and was recommended for the commissioner's post by a national search firm.Greg Avioli, deputy commissioner of the NTRA who will become president and chief operating officer, said should the board of directors consider candidates from within the organization, he would be "a strong supporter of D.G. Van Clief to become the permanent commissioner. He has the skills to perform the job."There has been talk Avioli, who also has served as chief counsel for the NTRA and is expected to take a more active role in Breeders' Cup business, might seek to succeed Smith, but on Aug. 16 he said: "At this time, I have my hands full with the role of president."Van Clief gave the NTRA report at this year's Round Table, something Smith has done each year. He discussed poll results that show growing interest in Thoroughbred racing, sponsorship deals, and television ratings, and also touched on Smith's role in the process."I've had the pleasure of working with Tim Smith for about six years, the last three years shoulder-to-shoulder," Van Clief said. "I think the organization has demonstrated its worth. Horse racing is in a stronger position today because of Tim's efforts."Van Clief for about three years has worn many hats as Breeders' Cup president and NTRA vice chairman. (The two organizations have a joint operating agreement.) He said there always has been potential for conflict of interest, but if there were, it would be resolved.When asked what would happen should he end up being hired full-time as NTRA commissioner while serving as Breeders' Cup chief, Van Clief said: "We've not had any problems. All this would do is raise the level of NTRA duties higher."



Copyright © 2015 The Blood-Horse, Inc. All Rights Reserved.