It Won't Be the Same
Date Posted: 8/18/2004 10:54:10 AM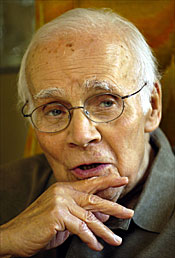 P. G. Johnson
Photo: Skip Dickstein

By Paul Volponi
Every morning for the last 42 years, Hall of Fame trainer Phil "P.G." Johnson raced the sun to his barn along the Belmont Park backstretch. After the essential chores, Johnson would give the workout sets their instructions and amble down to the training track. He'd lean up against the rail as if he were part of it. With his gaze fixed upon his runners, Johnson's penetrating eyes would turn to follow each one that galloped past. "I'm looking for sameness in my horses, or a change for the better," Johnson often said. Johnson's life was strikingly similar. That "sameness" was an incredible passion to train Thoroughbreds. And it burned in the horseman every day for more than 60 years. It started with a spark as a schoolboy in Chicago when P.G. began lavishing attention on the horses that pulled milk wagons. And when one followed him home, Johnson was convinced that he was the attraction and not the sugar in his pocket. His widowed father, a drummer in vaudeville who would later turn to photography, sent away for every system ever hawked to beat the ponies. The Racing Forms and magazines that filled the floor of their hotel rooms ultimately convinced P.G. that he could train. At 16, Johnson couldn't contain his desire any longer, so he lied about his age to get a trainer's license in Ohio. Johnson's "change for the better" was always found in his family. The blending of his personal and professional life was beautifully seamless. In 1943, P.G. was saddling a horse at Washington Park in Illinois when he first glimpsed his future wife, Mary Kay. That horse came home a winner. And after two years of courting, the couple was married. It was a union that flourished over 58 years. Sadly, Mary Kay passed away less than three months ago. At the outset, the ride was rough as the young couple bounced with the seasons from racetrack to racetrack. And though there was enough money for a motel, the Johnsons' dinner sometimes consisted of a shared Hershey bar. Over the years, the couple would increase their family with two daughters. "First we had Kathy, and that was support," said P.G. "Then came Karen, and that was more support." And like true racetrack children, the siblings grew up believing Christmas morning came at noon. That was the time their father would arrive home from the barn. Eventually, the quartet would form Amherst Stable, named for the street on which their Rockville Centre, N.Y., home stands. As a family, they bred and raced Thoroughbreds. Along the route, P.G. Johnson earned achievements and accolades. He was the leading trainer at Belmont Park four times and at Aqueduct three times. In 1983, he won the coveted Saratoga training title, and had a winner at the Spa for 36 consecutive years (1968-2003). He upset Forego with Quiet Little Table in the 1977 Suburban Handicap (gr. I), and won the 1978 Brooklyn Handicap (gr. I) with Nasty and Bold. Johnson captured 12 straight stakes races in which he entered a horse--a streak that began in 1978 and carried through to 1979. And in 1980, his charge Told set a world record for 1 1/16 miles on the turf at Penn National in 1:38. Johnson was elected to racing's Hall of Fame in 1997. The honor was a tribute to the trainer's incredible consistency. He was enshrined without a dominating champion. Instead of a Pegasus, he rose on the wings of a work ethic that woke him at 2:30 a.m. each morning as he walked a treadmill and watched tapes of races before heading to the barn. As Johnson's stream of winners slowed, there were whispers around the racetrack that the old-time trainer was a step behind the modern era. Johnson responded by making the biggest noise of his career, winning the 2002 Breeders' Cup Classic (gr. I) with Volponi by 6 1/2 dominating lengths. Fittingly, the colt was a homebred. With the passing of P.G. Johnson, at age 78, comes an irreplaceable loss to his family and racing. Hopefully, those who succeed him on the racetrack will be driven by a similar "sameness," striving constantly for their own "change for the better."PAUL VOLPONI is a New York correspondent for The Blood-Horse.



Copyright © 2015 The Blood-Horse, Inc. All Rights Reserved.