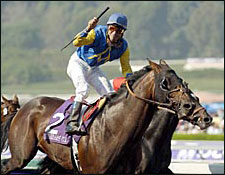 (from Del Mar track notes)
Likely favorite Pleasantly Perfect led a large contingent of Pacific Classic (gr. I) contenders Monday getting in their final serious preparations for Sunday's $1 million event at 1 1/4 miles.Others working at Del Mar were During, Choctaw Nation and El Elogiado. Across the country Kentucky shipper Colonial Colony turned in a five-furlong drill at Churchill Downs.Pleasantly Perfect was the first to work, chalking up six furlongs in 1:11 3/5 under the watchful eye of trainer Richard Mandella. "We took him back off his stablemate, Diamond Indy, and made him wait behind him. Then he kicked into gear, and away he went."The 6-year-old son of Pleasant Colony finished well ahead of his workmate, who was clocked in 1:12 3/5 for the distance. Pleasantly Perfect ran out seven furlongs in 1:25 2/5 under exercise rider Paul Nilluang..The reigning Breeders' Cup Classic (gr. I) and Dubai World (UAE-I) champion had split times of :11 3/5 for the first eighth of a mile, :35 4/5 for three furlongs and :47 4/5 for a half-mile.During, with regular exercise rider Dana Barnes up, was clocked in 1:11 4/5 for six furlongs with workmate Question, who had Corey Nakatani aboard. They were given the same time, but During hit the wire a nose to the good. Trainer Bob Baffert had During gallop all the way out to a mile, and clocked him in 1:39."He's going to need every bit of that," the trainer said. "During's the kind of horse that does what he has to do, but you have to force a lot of it out of him."Split times for the 4-year-old son of

Cherokee Run

were :24 2/5 for the first quarter, :36 2/5 for three furlongs and :59 3/5 for five furlongs.Choctaw Nation, who defeated Pleasantly Perfect and During in Del Mar's San Diego Handicap (gr. II) Aug. 1, clipped off five furlongs in 1:01 1/5 and galloped out six furlongs in 1:13 3/5 with regular rider Victor Espinoza in the irons.Seemingly unimpressed with the workout, trainer Jeff Mullins said, "As long as they go fast in the afternoon, I don't care (about the morning). That's his style, he does whatever he wants. Victor was excited about how he went."Del Mar clockers caught the

Louis Quatorze

gelding in split times of :13, :25 2/5, :37 3/5 and :49 3/5. El Elogiado, working for Candy Ride's 2003 victorious Pacific Classic team of trainer Ron McAnally and owners Sid and Jenny Craig, turned six furlongs in 1:13.The work was good enough to get an approving nod from McAnally, who announced that Kent Desormeaux would be his rider in the Pacific Classic.Across the country in Kentucky, the two invaders from the Blue Grass – Colonial Colony and Perfect Drift – did their final preparations prior to being flown to California on Tuesday.Colonial Colony, conqueror of Santa Anita Handicap (gr. I) winner Southern Image in Churchill Downs' Stephen H. Foster Handicap (gr. I) in June, drilled five furlongs in 1:01 2/5 at Churchill Downs. Trainer Walter Bindner, Jr. said, "I couldn't be happier. He's right on track."The 6-year-old son of Pleasant Colony is scheduled to leave Kentucky at 10:30 a.m. Tuesday.Coming on the same flight will be $2.5 million earner Perfect Drift, accompanied by trainer Murray Johnson. For the morning's exercise at Churchill's quieter Trackside Training Center, Australian native Johnson said, "He had a happy gallop, a mile and a half. He went along good and picked it up just right, and went well within himself."He hasn't missed a bit since we ran. We're not going to do a lot with him. His weight looks fantastic and we're good to go."Perfect Drift, who lost by a nose to Roses in May in Saratoga's Whitney Handicap (gr. I) Aug. 7, will be stabled at Del Mar in Patrick Gallagher's barn.