Class of 2004 Inducted into Hall of Fame
by Ron Mitchell
Date Posted: 8/10/2004 8:15:52 AM
Last Updated: 8/12/2004 11:34:55 PM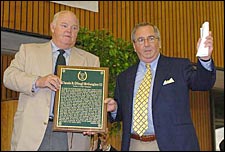 Ogden Mills Phipps, left, presents Hall of Fame plaque to trainer Shug McGaughey.
Photo: Associated Press

One year after her late husband, Hubert "Sonny" Hine, was inducted into racing's Hall of Fame at the National Museum of Racing, Carolyn Hine was again onstage during the annual induction ceremony Aug. 9 at Fasig-Tipton's Humphrey S. Finney pavilion in Saratoga Springs, N.Y. And once again Hine let her emotions flow when she accepted a plaque on behalf of her top horse, Skip Away."It is said that lightning doesn't strike twice in the same place, but it certainly has in my life," Hine said, in reference to the back-to-back inductions for "Skippy" and his trainer. "Skip Away was a gift, an extension of the bond Sonny and I had for each other. I am sure that Sonny knows about this induction and that he is very proud."Skip Away, champion 3-year-old colt in 1996, champion older horse in 1997 and 1998, and Horse of the Year in 1998, and the second all-time leading North American earner, was inducted into the Hall as the contemporary male horse.Other human and equine inductees into the Hall of Fame were Kent Desormeaux, jockey; Shug McGaughey, trainer; Flawlessly, contemporary female horse; Jimmy Winkfield, historic jockey; and Bowl of Flowers, historic horse.The ceremony also proved emotional for Patrice Wolfson, who accepted the plaque honoring Flawlessly, a two-time Eclipse Award winner who won 16 of 28 starts and earned $2,572,536. Like her Triple Crown winning sire Affirmed, Flawlessly raced in the Harbor View Farm silks of Wolfson and her husband, Louis.Noting that her husband is suffering from Alzheimer's disease, Wolfson said the Hall of Fame honor was gratifying to the couple. "When we came to Saratoga last year and visited the museum, I told him I thought Flawlessly would get inducted this year," Wolfson said.Desormeaux, one of three jockeys to win Eclipse Awards as an apprentice and as a journeyman rider, credited his family and his ability to begin riding at an early age in his native Louisiana for paving the foundation for his success and Hall of Fame entry."My whole backyard was nothing but a training ground for me to be a jockey some day," said Desormeaux, who has ridden two Kentucky Derby (gr. I) winners, Real Quiet and Fusaichi Pegasus. To date, Desormeaux has won more than 4,500 races, and his mounts have earned more than $167 million.McGaughey, who has trained eight Eclipse Award winners and earned an Eclipse Award as outstanding trainer in 1988, expressed gratitude to friends, family, and the owners he has worked for over the years, specifically mentioning the Phipps family, for whom he has trained nearly 20 years."My affiliation with the Phipps family has been one of the great highlights of my life and I wouldn't be standing here today without it," said McGaughey, who was presented the Hall of Fame plaque by owner/breeder Ogden Mills "Dinny" Phipps. "Being acknowledged today for doing something I've always loved is especially meaningful to me."The New York-based McGaughey has saddled eight Breeders' Cup World Thoroughbred Championships winners (second to fellow Hall of Famer D. Wayne Lukas) and ranks fourth all-time by Breeders' Cup trainer earnings. He won the 1989 Belmont Stakes (gr. I) with Easy Goer."In our eyes, he has been a Hall of Fame trainer for years and is a Hall of Fame individual," Phipps said of McGaughey.The award for Bowl of Flowers' Hall of Fame induction was accepted by Hall of Fame trainer Elliott Burch, who conditioned the two-time filly champion for Isabel Dodge Sloane's Brookmeade Stable."I can't tell you how good this mare was," Burch said. "The biggest thrill in my life was when she won the Coaching Club American Oaks."Noting the success of Sailor and Flower Bowl, the sire and dam, respectively, of Bowl of Flowers, Burch said, "It's a generational thing. The further they (races) went, the better she got."Bowl of Flowers won 10 of 16 races and earned $398,504.In presenting the Hall of Fame award for Winkfield to the late jockey's daughter, Mrs. Liliane Winkfield Casey, author Edward Hotaling paid tribute to the role black jockeys played in the history of horse racing.Winkfield won two Kentucky Derbys and was one of the best-known turn-of-the-century black jockeys. One of only four jockeys to win consecutive runnings of the Derby, Winkfield accomplished the feat with His Eminence in 1901 and Alan-a-Dale in 1902.Winkfield's daughter said her father was "a little man, but he had a huge heart for his love of horses. He had his ups and downs, but he had a beautiful life."The Hall of Fame induction ceremony audience was treated to an inspiring speech by Hall of Fame trainer D. Wayne Lukas, who quoted Vince Lombardi, Albert Einstein, and Winston Churchill in his presentation focusing on how to achieve success."Some of you are never going to have the opportunity...to walk up here and receive this honor," Lukas said, noting that all of the inductees were being honored because they made a commitment to the effort required to get them into the Hall of Fame. "But maybe in your own life you can make your private commitment and your own little Hall of Fame. The day is long past when your education or upbringing and background guarantee success. You have to roll up your sleeves and get active."Lukas said his employees are coached to employ enthusiasm, energy, and intensity while performing their stable duties."Those three things will overcome mistakes you make," Lukas explained. "I tell my assistants that we are only going to work half-days, and I don't care what they do with the other 12 hours. You cannot bring enough energy, enough intensity to the horse industry."In order to succeed, Lukas said people should take risks and not let the possibility of failure to deter them from trying new endeavors."At some point you have to be willing to step out of the box," Lukas said. "If you don't take risks, you are missing some of the passion and excitement in life. If you want to have a Hall of Fame career and be successful, you have to be willing to step out of the box and not be afraid to lose. Losing is a great teacher. When you lose, whether a horse race, a business deal, or something else in life, you sit back and analyze it...so losing is a great educational experience."Citing Lombardi's quote that "the quality of a person's life is directly proportionate to his commitment to excellence regardless of the chosen field of endeavor," and Einstein's belief that most people work at only 10% of their capacity, Lukas said none of the Hall members got there by underachieving."Nobody grows without dedication, discipline, and a spiritual awareness," said Lukas, who is the all-time leading trainer by earnings, with more than $230 million. "You have to make that commitment."The trainer also implored the audience to adopt a positive attitude toward their lives."Your attitude is a choice, and it is the most important decision you make every day. You make it early and make it the right choice."With the exception of the historic Hall inductees, who are selected by an historic review committee, the Hall of Fame members are nominated and elected by a group of active and retired racing writers, broadcasters, commentators, and historians. Edward L. Bowen, who chairs the Hall of Fame committee, served as master of ceremonies for the inductions.



Copyright © 2015 The Blood-Horse, Inc. All Rights Reserved.