Valenzuela's Suspension Upheld by Stewards
by Margaret Ransom
Date Posted: 8/6/2004 6:58:00 PM
Last Updated: 8/9/2004 5:03:19 PM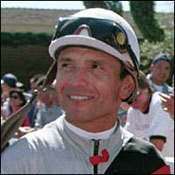 CHRB: Jockey Pat Valenzuela to serve out suspension.
Photo: Benoit

Jockey Patrick Valenzuela's suspension for the remainder of 2004 was upheld Friday by the Del Mar Thoroughbred Club Board of Stewards, which recommended that the California Horse Racing Board deny any future license applications from the rider.The ruling by stewards Ingrid Fermin, Tom Ward and George Slender, came five days after they heard seven hours of testimony over three days in a hearing at Del Mar last week requested by the jockey over a July 2 suspension. The original suspension was handed down at Hollywood Park when Valenzuela was unable to provide hair for follicle testing as directed by his conditional license to ride. The CHRB had required the additional testing when it allowed Valenzuela to return from an earlier suspension in May.Valenzuela testified he had not read the amended requirements of his license.

"Rather than make every effort to comply with the hair follicle testing process, (Valenzuela) found another way to evade testing and thereby violated (the license agreement)," stewards said in an official statement released by the CHRB.

Jim Ahern, the deputy attorney general representing the CHRB, called seven witnesses during the hearing – including an expert in hair testing and Valenzuela himself – in an effort to prove the initial suspension was within the rights of the stewards based on the restrictions of the jockey's conditional license.

"It is what we were arguing for and the reason we put on the extensive case we did," Ahern said. "What's missed here is that the stewards upheld their ruling (from July 2) and in a very real sense the burden of proof was on (Valenzuela).

"This case can't be looked at in isolation because of Mr. Valenzuela's extensive disciplinary history. It's now up to the CHRB to adopt or not adopt (the latest stewards ruling) and then it's up to Mr. Valenzuela and his lawyers whether they want to take it to superior court."

Valenzuela filed a lawsuit on July 16 in anticipation of an adverse decision from the stewards, Ahern said. The jockey could appeal the CHRB's administrative ruling, which is expected to come within the next few days. If denied, it could lead to request for a temporary restraining order allowing him to ride pending an appeal. If he loses that appeal, which could be heard by either an administrative law judge or the state racing commissioners, he could then again go to superior court. There was no indication what action, if any, Valenzuela would take as of late Friday afternoon. His attorney, Neil Papiano, did not return a phone message. Papiano argued during the hearing that Valenzuela should not be deprived of his livelihood when he has not tested positive for drug use. He also contended that the CHRB had failed to provide the requirements for hair follicle testing so that the jockey could fully comply.

"The issue of safety on the racetrack includes jockeys, exercise riders, pony riders, outriders and, of course, the horses," the stewards' official statement said. "These obligations cannot be compromised. (Valenzuela) has been a talented jockey for many years, but it is evident that he has failed to learn that he must be held accountable for the consequences of his behavior."



Copyright © 2015 The Blood-Horse, Inc. All Rights Reserved.