Smith Resigns From NTRA; No Word on NYRA Job
by Tom LaMarra
Date Posted: 7/28/2004 7:25:43 AM
Last Updated: 7/29/2004 3:01:07 PM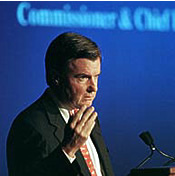 Tim Smith, has resigned as NTRA commissioner.
Photo: Skip Dickstein

National Thoroughbred Racing Association commissioner Tim Smith tendered his resignation as expected July 27, but there was no announcement that Smith had taken a job as president and chief executive officer of the New York Racing Association.The NTRA board of directors accepted Smith's resignation, effective Sept. 1, during a teleconference that lasted more than three hours. As expected, NTRA vice chairman and Breeders' Cup president D.G. Van Clief Jr. was named acting commissioner and CEO, and NTRA deputy commissioner and chief operating officer Greg Avioli was named president and COO, effective Sept. 1.During a telephone conference with the press soon after the board meeting, Smith indicated he is no hurry to make a decision on the NYRA job. He did say the goal for New York racing is to "plan a future that not only sustains New York racing's historic and tremendous quality, but also improves the structure and business model for New York racing going forward."NTRA and NYRA officials, in a July 18 statement, confirmed that Smith has discussed the top position with the racing association. On July 27, Smith said he would take time to discuss the situation in New York with other parties."I'm not in any particular rush," Smith said. "There are a lot of bases to touch, particularly in New York right now. I'd probably feel better about the process if I had a couple of weeks more."Smith said no matter the outcome, he'd like to stay involved in horse racing.When asked about his belief that racing needs a true league office, Smith said progress has been made in the area of consolidation. He said it remains to be seen whether the negotiations for rights for Breeders' Cup and the Triple Crown, for instance, are somehow linked."I still think aggregation to the extent possible benefits all participants," Smith said. "The more you can put in the basket ... the better."Smith and others in the industry believe the future course of NYRA is of utmost importance to Thoroughbred racing. NYRA holds the franchise to operate racing at Aqueduct, Belmont Park, and Saratoga, where many of the sport's major races, including the Belmont Stakes (gr. I), are held. NYRA, whose current franchise is due to expire in 2007, is operating under a court-appointed monitor in the wake of an investigation and indictment last year.In a July 20 interview, NYRA chief executive officer Barry Schwartz told The Blood-Horse he was "excited" about the prospect of having Smith at NYRA. "We needed someone who can take control of this organization and devote his entire time to it, and Tim would be that kind of guy," he said.Schwartz has served as CEO since the resignation of Terry Meyocks, who now serves as special assistant to Smith at the NTRA.Van Clief, who also took part in the phone conference, said the NTRA board ultimately would determine where the search for a commissioner goes. He said whether he's "interested or qualified" in serving in a full-time role would hinge on that process."I look at this as the end of NTRA phase one, and the beginning of NTRA phase two," Van Clief said.Smith has guided the NTRA through tumultuous times since the league office officially opened in 1998, and some would argue the organization never has been stronger. Many of the racetracks that defected several years ago have returned to the fold, television coverage and ratings continue to increase, sponsorships and group purchasing continue to grow, and Thoroughbred racing has a solid presence in legislative circles in Washington, D.C.In other business July 27, the NTRA received a report on CITGO becoming an official league sponsor for 2005-09, and was told Magna Entertainment Corp. had renewed memberships for its racetracks through 2005. Details on negotiations between Breeders' Cup and the proposed Thoroughbred Championship Tour will be provided at the board's third-quarter meeting Sept. 24 in Texas.



Copyright © 2015 The Blood-Horse, Inc. All Rights Reserved.