The Envelope Please...
by Blood-Horse Staff
Date Posted: 1/3/2001 5:08:17 PM
Last Updated: 1/30/2001 2:15:20 PM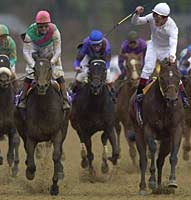 Kona Gold, defeating Honest Lady in the Breeders' Cup Sprint, is one of three finalists for Horse of the Year honors.


The votes are in and the major players are gathered in New Orleans for tonight's Eclipse Awards dinner. In addition to Horse of the Year, Eclipse Awards will also be presented for other equine and human achievements during 2000. Kona Gold, winner of the 2000 Breeders' Cup Sprint, is a finalist for an Eclipse Award in three categories: Horse of the Year, Older Horse, and Sprinter. Kona Gold won four other races, all grade II, from five additional starts last year and the now 7-year-old gelding earned $1,042,630 during his championship season. Kona Gold is joined by top handicap horse Lemon Drop Kid and Breeders' Cup Classic winner and leading 3-year-old male candidate Tiznow as Horse of the Year finalists.Finalists in each category, based on voting by the National Thoroughbred Racing Association, National Turf Writers Association, and Daily Racing Form, are:Horse of the Year: Kona Gold, Lemon Drop Kid, Tiznow4-Year-Old and Up Male: General Challenge, Kona Gold, Lemon Drop Kid4-Year-Old and Up Female: Beautiful Pleasure, Heritage of Gold, Riboletta3-Year-Old and Up Sprint: Kona Gold (unanimous)3-Year-Old and Up Turf Male: John's Call, Kalanisi, War Chant3-Year-Old and Up Turf Female: Gaviola, Perfect Sting, Tout Charmant3-Year-Old Colt or Gelding: Fusaichi Pegasus, Giant's Causeway, Tiznow3-Year-Old Filly: Jostle, Spain, Surfside2-Year-Old Colt or Gelding: City Zip, Flame Thrower, Macho Uno, Point Given2-Year-Old Filly: Caressing, Raging Fever, She's a Devil Due4-Year-Old and Up Steeplechase: All Gong, Pompeyo, YellowroadOutstanding Breeder: Juddmonte Farms, Harry Mangurian Jr., Frank StronachOutstanding Owner: Michael Cooper and Cecilia Straub-Rubens, Juddmonte Farms, Frank StronachOutstanding Trainer: Robert Frankel, Scott Lake, Joseph OrsenoOutstanding Jockey: Jerry Bailey, Russell Baze, Pat DayOutstanding Apprentice Jockey: Norberto Arroyo Jr., Tyler Baze, Greta Kuntzweiler



Copyright © 2015 The Blood-Horse, Inc. All Rights Reserved.