Outlook Bright for Fasig-Tipton July Yearling Auction
by Deirdre B. Biles
Date Posted: 7/16/2004 2:41:04 PM
Last Updated: 7/17/2004 11:27:19 AM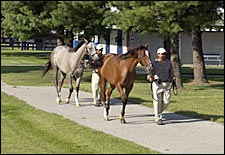 Sale yearlings being led to barns at Fasig-Tipton.
Photo: Anne M. Eberhardt

Expectations are running high for the yearling selling season, which kicks off Monday in Central Kentucky with Fasig-Tipton's July auction. Nearly 500 horses are catalogued for the two-day sale, which will be held at Fasig-Tipton's Newtown Paddocks facility in Lexington."We are all very optimistic," said Boyd Browning, Fasig-Tipton's executive vice president and chief operating officer. "The psychology of our marketplace is very positive right now, and I think we'll have a pretty active group of people here. We've worked very, very hard this year, going to a lot of racetracks and making a lot of phone calls in a proactive effort to recruit buyers. As of now, I'm not aware of a major new player who is going to jump into the game, but we have received a lot of credit requests already from people wanting to spend $200,000 or $300,000. There will be a lot of different folks participating."One reason for the bright outlook is the strength of this year's market for 2-year-olds in training, which produced world record prices for both a colt and a filly. It also left pinhookers with plenty of cash in their pockets to spend on yearlings."What was so encouraging about the 2-year-old sale season was its consistency and the increases across the board at all levels of the market," Browning said. "It started strong in February in Florida and it ended strong in Maryland in May and at OBS (the Ocala Breeders Sales Company) in Florida in June. It also wasn't driven by just a single entity (big buyer)."Other encouraging signs are the improved health of the stock market and the continued availability of lucrative tax breaks. Horse prices also are on an upswing outside this country. In Japan recently, a foal auction produced a world record price and a sale record gross.With the Keeneland July auction on hold indefinitely, Fasig-Tipton finds itself in the leadoff spot on the yearling calendar for the second year in a row. This time around, Fasig-Tipton has moved its auction to Keeneland's traditional Monday-Tuesday schedule rather than keeping the sale later in the week.While most of the yearlings with the best pedigrees will be seen at Saratoga and Keeneland in September, there should be plenty of offerings with buyer appeal at Fasig-Tipton in July. The company's selection team, headed by Bill Graves, has a reputation for selecting horses with outstanding physical credentials. The July sale also offers the popular New Sire Showcase, which features the progeny of young stallions."We truly try to emphasize quality, and we feel really good about the physical group of horses we have on the grounds this year," Browning said.At last year's sale, 303 horses were sold for a gross revenue of $28,202,000. The average price was $93,076, and the median price was $67,000. Compared to 2002, the average and median fell by 4.8% and 4.3%, respectively, while the gross experienced a moderate decline of 11.3%. The buy-back rate decreased significantly, falling from 39.4% in 2002 to 28.7% in 2003.Fasig-Tipton officials were pleased with last year's results, saying that the sale held its own despite the negative effects of mare reproductive loss syndrome, which reduced the pool of prospects, and the cancellation of the Keeneland July sale, which could be counted on to lure the industry's biggest spenders to Lexington. But even without Keeneland, Fasig-Tipton still was able to attract many of the top yearling buyers."People have more confidence heading into this sale than they did a year ago," Browning said.Sessions begin each day at 10 a.m. (EDT).



Copyright © 2015 The Blood-Horse, Inc. All Rights Reserved.