California Board Postpones PVal Hearing
by Lenny Shulman
Date Posted: 7/14/2004 2:28:06 PM
Last Updated: 7/15/2004 3:35:54 PM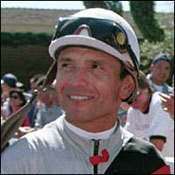 Patrick Valenzuela
Photo: Benoit

The California attorney general's office has postponed indefinitely Thursday's scheduled formal hearing by Hollywood Park stewards concerning the summary suspension of jockey Pat Valenzuela, which went into effect July 2. At that time, the stewards claimed Valenzuela failed to provide samples of his hair for drug testing as required under the terms of his conditional licensing agreement with the California Horse Racing Board.However, attorney Neil Papiano, who was hired by the embattled rider to represent him, said he met with Valenzuela July 6 and said there was hair on Valenzuela's head. According to Papiano, Valenzuela, contrary to earlier reports, said that he also had pubic hair, and that the board knew that, because a representative had observed his urine testing at the time."Nobody asked him to take a hair test," Papiano said. "He'll take a hair test anytime, he'll take a blood test, whatever they want. If they want a continuance, fine, but let him ride. He lost the mount on Rock Hard Ten, he lost a mount in the Hollywood Gold Cup...You can't say you're not prepared and you don't have evidence, but you're suspending him."James Ahern, deputy attorney general, disputed Papiano's account. He said that "Valenzuela presented for hair follicle testing on or about July 2 completely clean shaven, and there was no hair present for investigators to take." He noted an inch and a half of hair was necessary to analyze for the presence of drugs or controlled substances. Ahern said the hearing before the board of stewards would take place some time during the Del Mar meeting. He also noted that investigators would "say and assert otherwise to Valenzuela's claim that he had pubic hair that was available for testing" on or about July 2.Ahern said he sent Papiano the request for a continuance because he could not find expert witnesses regarding the collection of hair follicles who were available to testify at the scheduled hearing July 15. Papiano said he subsequently received word that the meeting has been put off indefinitely and that the jockey would remain suspended."He's done everything they've asked him to do," Papiano said, "and somebody decided they were going to suspend him even though he passed the three drug tests they gave him."Papiano said he was deciding a course of action late Wednesday to try and get Valenzuela's suspension lifted. That would likely entail taking the case to superior court for a preliminary injunction against the suspension.



Copyright © 2015 The Blood-Horse, Inc. All Rights Reserved.