Magna Development CEO Reiterates Commitment to Magna's Racing Program
by Ron Mitchell
Date Posted: 7/13/2004 8:52:28 AM
Last Updated: 7/14/2004 8:47:08 AM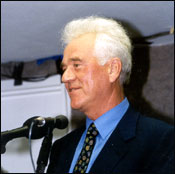 Frank Stronach: "I strongly support this transaction."
Photo: Anne M. Eberhardt

The chief executive officer of MI Developments said Tuesday that the company's proposal to purchase the stock it presently does not own in Magna Entertainment and take it private will not affect the racetrack operating company's strategic business plan. "We are committed to the horse racing operations of MEC and fully committed to their vision as to the future of that part of the company," said Brian Tobin, CEO of MDI. "We do not envision any divergence from the business plan of that, which that is first class world class horse racing and development of underutilized lands for retail and entertainment purposes."Earlier Tuesday, MDI announced plans to take MEC private by purchasing the additional shares it does not own in a cash and stock transaction valued at $285.8 million.MID is offering $1.05 in cash and 0.2258 of an MI Class A share for each Magna Entertainment Class A share. That works out to about $7 a share in total, a 21.5% premium over Magna Entertainment's closing price Monday on the Nasdaq. MI wants to buy the remaining 40.8 million Class A shares it doesn't own, for a total of $285.8-million. The cash component of the deal, if all shareholders accepted the offer, would be about $42.9-million.According to the company based in Aurora, Ontario, Canada, MI Developments Inc. already owns all of Magna Entertainment's Class B stock and about 16.5% of its Class A shares. That represents about 96.6% of the votes connected with Magna Entertainment's outstanding stock and a 62% equity interest in the company.With unusually heavy volume of more than 19.2-million shares traded by 1 p.m. (ET), MEC's stock soared to a 52-week high price of $7.07 before falling back to close at $6.48. Earlier in the day, MEC announced that DISH TV would begin offering its Horseracing TV to its satellite dish customers."We believe this offer represents an attractive opportunity for MEC shareholders," Tobin said. "Not only does our offer provide MEC shareholders with a substantial premium to current trading prices, it also allows MEC shareholders, through ownership of MID shares, to participate in the future growth of MID and to continue to participate in the future growth of MEC."Tobin said the privatization move will put the company in a better position to obtain financing for some of its development plans."We believe that the development of MEC's underutilized lands and certain of its racing assets into destination retail-entertainment centers represents an attractive investment opportunity for MID," Tobin said. "Taking MEC private will improve MEC's ability to execute its strategy by improving its ability to obtain financing."Tobin said MEC will obtain its own evaluation of the company's worth and MDI's offer for consideration by MEC shareholders. The MEC evaluations must be included with the paperwork MDI files with regulators in Canada and the U. S. He said the entire process and finalization of MDI's offer could be completed my late September.MI Developments was spun off from Magna International last summer.In addition to bidding on the outstanding stock, MI Developments also said Monday it has struck a deal to purchase about 7.5% of Magna Entertainment's outstanding Class A shares held by Fair Enterprises Ltd., a company controlled by Magna chairman Frank Stronach and his family. Those shares were sold for 89 cents and 0.1922 of a MI Development Class A share each."I believe the offer and merger are in the best long-term interests of both MEC and MID shareholders and I strongly support this transaction," Stronach said. "Fair Enterprise sold its MEC shares to MID at market prices so that shareholders would know that I will participate in this transaction solely through my investment in MID, and I will not benefit by tendering MEC shares into the offer."In response to the unsolicited offer, MEC set up a committee to evaluate the offer. Serving on the committee will be Jerry D. Campbell, Louis E. Lataif, Gino Roncelli, and William J. Menear, who will serve as the special committee's chairman.



Copyright © 2015 The Blood-Horse, Inc. All Rights Reserved.