Stewards To Meet on PVal Suspension July 15
Date Posted: 7/8/2004 2:16:59 PM
Last Updated: 7/10/2004 10:18:30 AM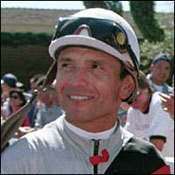 Jockey Pat Valenzuela
Photo: Benoit

Hollywood Park stewards will conduct a formal hearing concerning the summary suspension of jockey Pat Valenzuela on Thurs., July 15, at Hollywood Park, the California Horse Racing Board announced.On July 3, Valenzuela, 41, was suspended by Hollywood Park stewards Tom Ward, George Slender, and Pete Pedersen for failing to comply with the terms of his conditional license. Specifically, the suspension came after Valenzuela was unable to submit to a hair-follicle drug test. That suspension came after a one-day return to riding by Valenzuela, who picked up a pair of victories July 2 upon his return from a 30-day suspension for failing to submit to mandatory urine testing in January.Valenzuela said he had shaved his entire body and could not provide the 100 hair strands needed for the hair-follicle test, which is thought to be more stringent than a urine test. Valenzuela did take at least two urine tests the week of his latest suspension, and both came up negative.



Copyright © 2015 The Blood-Horse, Inc. All Rights Reserved.