It's Official: Smarty Jones to Three Chimneys
by Evan Hammonds
Date Posted: 6/25/2004 1:51:40 PM
Last Updated: 7/1/2004 2:36:52 PM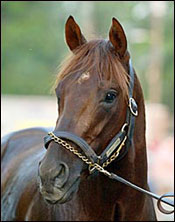 Smarty Jones will stand at Three Chimneys when racing days are over.
Photo: Barbara D. Livingston

Ending weeks of speculation, Roy and Pat Chapman announced Friday afternoon that their 3-year-old superstar Smarty Jones will stand at Three Chimneys Farm near Midway, Ky. at the end of his racing career. In winning the bidding war in Central Kentucky for Smarty Jones' services, Three Chimneys will purchase and syndicate a 50% interest in the horse, and the Chapmans will retain 50%. The price was not disclosed.The total package is reported to be worth $39 million.According to Robert N. Clay, owner of Three Chimneys, there will be 60 shares in Smarty Jones with the Chapmans retaining 30 shares.The agreement calls for the Chapmans to make all racing decisions regarding Smarty Jones' future schedule, and it will be their call as to when the horse retires from the track. The agreement also specifies that the book of mares bred to Smarty Jones will be limited to 110 mares, plus a Breeders' Cup nomination, and that he will not be shuttled to the Southern Hemisphere for breeding purposes.The hunt for the breeding rights to Smarty Jones began weeks ago, long before his Visa Triple Crown bid in the Belmont Stakes (gr. I). A "Who's Who" of Central Kentucky breeding farms were bidding for his services, including Ashford Stud, Castleton-Lyons, Darley at Jonabell, Hill 'n' Dale Farm, Lane's End, Walmac International, and Wintergreen Stallion Station.The farms were expected to meet certain parameters set down by the Chapmans before they came to the table. Those parameters included book size, as to not overbreed Smarty Jones; having a good policy on accepting visitors; and that the horse could race as a 4-year-old if the Chapmans wanted him to.Smarty Jones has won eight of his nine career starts and earned $7,613,155. The 3-year-old son of Elusive Quality out of the stakes-winning Smile mare I'll Get Along was bred in Pennsylvania by the Chapman's Someday Farm.Third-crop sire Elusive Quality , who stands at Gainsborough Stud near Versailles, Ky., is the sire of 15 stakes winnersLast year, Smarty Jones won his first two starts at Philadelphia Park, taking a six-furlong maiden special weight race by 7 3/4 lengths, then winning the Pennsylvania Nursery Stakes for state-breds by 15 lengths on Nov. 22. He earned a Beyer Speed Figure of 105 in the seven-furlong race.His 2003 campaign began in the Count Fleet Stakes at Aqueduct on Jan. 3, where he won the 1 1/16-mile race on the inner track by five lengths. Trainer John Servis elected to take the colt to Oaklawn Park in Arkansas to prepare for a run at the Triple Crown. On Feb. 28, he won the one-mile Southwest Stakes by three-quarters of a length and followed that with a 3 1/4-length score in the 1 1/16-miles Rebel Stakes. On April 10, breaking from the outside post 11 over a muddy track, Smarty Jones won the 1 1/8-miles Arkansas Derby (gr. II) by 1 1/2 lengths. Shipped to Kentucky for the Derby, Smarty Jones was initially stabled at Keeneland before vanning to Churchill Downs the week before the race. He signaled his readiness with a five-furlong workout in a blazing :58 on April 24, then went on to win the Derby on May 1 by 2 3/4 lengths over Lion Heart. Going off as the 4-1 favorite, Smarty Jones was just the second favorite since 1979 to win the Derby, joining Fusaichi Pegasus (2000). In winning the Run for the Roses, Smarty Jones won the $5-million "Centennial" bonus from Oaklawn for sweeping the Rebel, Arkansas, and Kentucky Derby. The victory instantly made him the sixth-leading North American earner of all time and a darling with not only racing fans, but with the general public as well.Shipped to Baltimore, Smarty Jones ran his unbeaten streak to eight with a record-setting performance in the Preakness Stakes (gr. I). He won by 11 1/2 lengths, the largest winning margin in the Preakness in the race's 129-year history. He recorded a Beyer Speed Figure of 118 in the Preakness, the highest number recorded by a 3-year-old this year--five points higher than the next-highest number.His bid for the Visa Triple Crown, and another $5-million bonus came to end in the stretch of the 1 1/2-mile Belmont Stakes (gr. I) when he was beaten by Marylou Whitney Stable's Birdstone by a length. It was eight lengths back to the third-place finisher, Royal Assault.The current plan for his schedule the rest of this year includes four races that under consideration by the Chapmans and Servis: the Haskell Invitational Handicap (gr. I) on Aug. 8; the Pennsylvania Derby (gr. II) on Sept. 6 at Philadelphia Park; the Pegasus Handcap at the Meadowlands, and the Breeders' Cup Classic - Powered by Dodge (gr. I) on Oct. 30 at Lone Star Park in Texas. The latter would be his first start against older horses."Everyone in Kentucky was so nice to us that this became a difficult decision, " said Pat Chapman in a release. "But Three Chimneys was such a great fit. They are used to having the public visit their horses like Seattle Slew, Silver Charm, and Point Given . They believe in limiting a stallion's book of mares, and they are experienced in standing an important horse and making him a success as a sire. It's just a really great fit.""We have come to appreciate the idea of syndicating him to broaden his ownership and the base of mares to support him," said Roy Chapman. "But we also like the idea of retaining half ownership so we can stay involved with his career. Three Chimneys suggested we limit the book size in the contract, and we thought that a great idea.""In no way does this signal Smarty's retirement," continued Roy Chapman. "We decided before the Preakness (gr. I) that we would talk to stallion farms and plan his future in a studied way. He has been so good to us that we want to make sure we do right by him. We started these conversations the week after the Preakness and we visited Kentucky the week after the Belmont (gr. I) to see 10 farms. George Isaacs did a remarkable job in helping us sort through our options. It was not an easy decision, but we feel very good about the result."Isaacs is general manager of Bridlewood Farm near Ocala, Fla., where Smarty Jones was raised."As an advisor in the process, this was a once-in-a-lifetime opportunity for me," Isaacs said. "The farms treated us well and treated the Chapmans with a great deal of courtesy and respect. I'm extremely grateful and always will be."Three Chimneys, in the Chapman's eyes, ended up being the perfect fit," Isaacs said. "They wanted to find the right partner for a long-term relationship. In the final decision process, it was difficult. We respected all of the prospects as professionals. You appreciate everyone for their strengths. That made it difficult.""My first thought was that this is a classic case where our philosophy and their philosophy matched from the get-to," said Clay. "After that, the money would take care of itself. It means a great deal to us. We had Seattle Slew for 17 years, and it's great to replace him with another one of 'America's Horses.'"The visitation aspect was a factor," he said of closing the deal. "That's part of our culture at Three Chimneys. We realize he means a lot to the state of Kentucky. People don't realize the economic impact this kind of horse has on the community.Three Chimneys was home to Seattle Slew, the only undefeated Triple Crown winner in history, for 17 years."We are grateful for this awesome responsibility," Clay said. "This is a very special horse in so many ways. The Chapmans and the Servises have earned the gratitude of the entire racing world by the way they have served the needs of the press, and the public, and of Smarty Jones all at the same time. We hope, and plan, to do just as good a job as they have done. We have always welcomed fans to Three Chimneys Farm and look forward to sharing Smarty Jones with his public.""It will truly be our privilege to provide Smarty Jones his home upon retirement and to maximize his opportunities to be a success as a stallion," said Three Chimneys president Dan Rosenberg. "He is an extraordinary racehorse, by a world-record-setting miler, and he is directly descended from La Troienne. Anne Peters, our matings and pedigree analyst, has already identified quite a number of mating opportunities. We're excited about him as a stallion."Highlights of the Adventures of Smarty Jones:




Copyright © 2015 The Blood-Horse, Inc. All Rights Reserved.