Smarty Returns to the Track; Final Days With Butterscotch
Updated: Saturday, June 26, 2004 5:01 PM
Posted: Friday, June 25, 2004 11:21 AM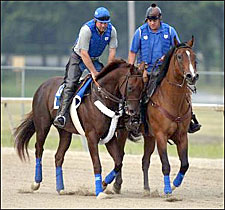 Photo: AP/Equi-Photo, Bill Denver
Smarty Jones, left, and his pony, Butterscotch, take a turn around the track Friday morning.
It's been 20 days since the Belmont Stakes (gr. I); 20 quiet days for Smarty Jones, who has only been walking the shed since his valiant, but unsuccessful quest to become racing's 12th Triple Crown winner. On Friday, Smarty paid his first visit back to the track, stretching his legs in a one-mile jog.Although Smarty was defeated in the Belmont, he has not lost any stature, and still retains his hero status with the fans, who have flooded trainer John Servis with bags upon bags of mail.The Philadelphia Park backstretch seemed unusually serene Friday morning, perhaps due to the fact that the last visit there was so surreal, with hovering helicopters and state police on motorcycles, and hordes of media, and Bensalem residents lined up along the neighboring roads cheering on Smarty Jones as he embarked on his journey to New York.Last month, the Philadelphia Park stable gate became racing's equivalent of the Berlin Wall. Only having your name on a list, with an OK from Servis or his wife, Sherry, could get you in. Being on that list was akin to possessing the letters of transit from
Casablanca
. Security remains tight, despite the calm. Barriers still are lined up outside Barn 11, and there is still a guard on duty at the barn 24 hours a day. Working the 5 a.m. to 2 p.m. shift today was Mike Cattalo, who has been on Smarty duty since the colt arrived from Churchill Downs. "It got tiring after a while," he said. "Three of us were doing 16-hour shifts for seven days a week. It's been slow slow since the Belmont, but you still got to guard this horse. You can't leave him unattended; he's worth a lot of money. This horse has done so much for this track, and the entire state. People were crying in the grandstand when he lost; it was real sad. Hopefully, he can carry it from here."By 5:30, Smarty was tacked up and ready for his first taste of the racetrack. It's amazing how good the colt looked. From a physical standpoint, the Belmont took nothing out of him. His coat looks awesome and he continues to carry good flesh. In fact, assistant trainer Maureen Donnelly said he's gained weight since the Belmont.Servis, aboard Butterscotch, waited for Smarty outside the barn. The 23-year-old pony, who has become such a major part of Smarty's life, and a celebrity in his own right, will bid farewell to his friend in a few days. After 16 years as Servis' pony, Butterscotch will call it a career and begin a life of leisure at Shirley Lojeski's farm in Quaker Town, where Servis turns out many of his horses."He's gettin' old," Servis said. "He's startin' to show that Smarty wear and tear. Smarty's put a hurtin' on him. He'll make a good riding horse for hacking through the woods."Servis then leaned over and gave him a few smacks on the neck. "Butterscotch, you've been a good pony, boy.""He's still quick," Servis said. "He'll catch a loose horse like nothing; he'll put you right there. Whatever racetrack I've been to, every outrider there has tried to buy him. About 10 years ago, (Philly Park) had me take him to the frontside on Pennsylvania Derby day, and he just stood there, while they showed people how to put bandages on and things like that. I've had him since he was 7-years-old. I'm really gonna miss him.""He also helped raise two boys," Servis' father, Joe, said, referring to Servis' two sons, Blane and Tyler. "The kids always had Butterscotch. He was always considered their pony, even though they never rode him that much. But, we all get to a point where it's time to slow down, and in a couple of weeks from now, Smarty's going to be pretty aggressive."The elder Servis had spent Father's Day with John's brother Jason, but stayed a few extra days to get his "Smarty fix."Servis said Butterscotch's replacement, whom he purchased recently from trainer William "Jinks" Fires, is scheduled to leave Kentucky on Saturday. Servis had "fallen in love" with him at Oaklawn and has been trying to buy him ever since. The pony is due to arrive Sunday, and likely will take over Butterscotch's duties on Monday.As Smarty walked to the track, he was strong, tugging at the lead shank and trying to muscle Butterscotch. "What's this, a goodbye (butt) whippin' to Butterscotch?" Servis asked him."He loves being outside," Servis said. "It's like he's been in jail for the last three weeks."Smarty stood for a while at the gap, then proceeded to jog once around with Butterscotch alongside. Coming back, Smarty was doing some heavy leaning on Butterscotch. It was a very humid morning, and Smarty worked up a tiny bit of lather on his neck, then bounced off the track as if he was just getting warmed up.As Smarty was being washed, the sound of a single camera click brought his head and ears up in a flash. "You're puttin' on a show now, aren't you, you sonofagun?" foreman Bill Foster said to him. "You like that sound, don't you? Go ahead, show 'em.""I've never seen a horse like this," Foster said. "You just can't ask for a better horse." Foster stared at his horse for several seconds, then kept repeating his name, as if still amazed by him. "Smarty Jones...Smarty Jones."Belmont or no Belmont, the name still had the same magical sound to it.
FREE! E-Newsletters from The Blood-Horse!...
Follow the top stories of major racing events, racing previews and results with FREE e-newsletters from bloodhorse.com. As news develops, we'll deliver updates to your inbox. Follow important events moment by moment, step by step!