Patricia Cooksey Ends Her Riding Career
Date Posted: 6/25/2004 8:06:22 AM
Last Updated: 6/26/2004 9:55:17 PM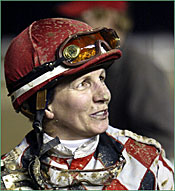 Pioneering jockey Patricia Cooksey hangs up her tack after 26 years in the saddle.
Photo: Patrick Lang

Jockey Patricia "P.J." Cooksey, the second leading female rider in Thoroughbred racing, ended a trailblazing 26-year career in the saddle on Thursday when she finished third in a race at Churchill Downs. Cooksey, 46, rallied in the stretch to finish third aboard Ken and Sarah Ramsey's Degenerate Gambler in the six-furlong second race for $15,000 claiming horses. Cooksey, the all-time leading female rider at Churchill Downs and the first woman to ride a stakes winner at the historic home of the Kentucky Derby, wiped away tears as she weighed out for the final time in her career. She was emotional as she exchanged hugs with friends and admirers after the race and when discussing her decision with reporters after the race. "It's the old bittersweet. But I feel like the bitter is a lot worse than the sweet," she said, her voice breaking with the emotion of the moment. "I'm sad. I'm real sad." Cooksey, who scored her first victory in 1979 at West Virginia's Waterford Park, completed her riding career with 2,137 victories from 18,266 mounts, according to statistics compiled by Equibase. She is one of only two female riders to compile more than 2,000 career wins, a milestone she shares with all-time leader and Thoroughbred racing Hall of Fame member Julie Krone. Cooksey had a brief reign as racing's all-time female wins leader in 1988 before Krone surged past her into the top spot. She was the second woman to ride in the Kentucky Derby and the first to ride in the Preakness. Cooksey was also the first woman to ride the winner of a $100,000 race in California. Illness and injuries that required long stretches out of the saddle interrupted the final years of her career. Those setbacks included diagnosis and successful treatment of breast cancer, which kept her on the sidelines from September 2001 until late June of the following year, and her recovery from an April 2003 spill during a race at Keeneland in which she broke both legs. The latter kept her on the sidelines until late March of this year. Cooksey's last victory – and her only win since the Keeneland accident – came at Churchill Downs on May 27, when she won a race for $15,000 claiming horses aboard Donner Pass. She also rode in Thursday's first race, finishing fourth on Baby Girl Malia in a race for $15,000 claiming horses. The native of Youngstown, Ohio said she would have preferred to have ridden a while longer, but difficulty in acquiring competitive mounts in her latest comeback prompted her decision to hang up her riding tack after Thursday's mounts. "It's been a wonderful career and I'm leaving a lot behind," she said. "I don't feel like I can't do my job anymore. I just feel like I'm not getting the opportunities to be able to do my job, and it's very frustrating when I know that I can do better. "Sometimes you know when you've gone an eighth of a mile that you've got no shot because you just don't have the horse underneath you. That's been hard because I like to win ... I love to win races. That's what I was looking for, but in order to get to that point you have to go through the bottom part of the barrel again and my heart just wasn't into going out and hustling and fighting and trying to get just any little mount. I always thought that when I lost the desire, then it would be time to go." Cooksey said the competition on the track and the camaraderie with her fellow riders in the Jockeys' Room would be the things that she would miss most. "It's a great family up there," she said. "We come out in the mornings and we work and we exercise, then we go up in the jocks room and we eat together. It's our second home and it's kind of like I'm giving that up and leaving my second home and my second family." She completed her career with 213 victories under the historic Twin Spires of Churchill Downs. The Kentucky Athletic Hall of Fame enshrined Cooksey as a member in 2002. She was honored for her successful battle against cancer that same year when she received the Lombardi Symbol of Courage Award, which is presented by the Lombardi Cancer Center in Washington, D.C. to a prominent athlete who is forced to battle cancer. She is one of four finalists for the New York Racing Association's 2004 Mike Venezia Award, which annually honors a jockey who exemplifies "extraordinary sportsmanship and citizenship" in their professional and personal lives. Churchill Downs plans to honor Cooksey with a special ceremony during the closing July 4 weekend.



Copyright © 2015 The Blood-Horse, Inc. All Rights Reserved.