Bird Call: Destiny Denied
by Steve Haskin
Date Posted: 6/8/2004 10:57:40 AM
Last Updated: 6/10/2004 10:17:33 AM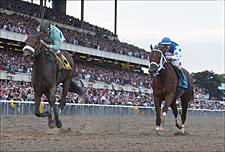 Birdstone, forground, spoils Smarty's bid for a twelfth Triple Crown.
Photo: Skip Dickstein

This was to be the year. You could feel it. Divine forces were guiding Smarty Jones up the sacred slopes of Mt. Olympus. Only a quarter mile away, the pantheon was in sight. Every step to this point had been perfectly orchestrated, and Smarty's ascent to immortality seemed written in the stars. The vast majority of the record 120,139 in attendance for the June 5 Belmont Stakes (gr. I) rose to their feet, cheering wildly and pumping their fists in the air. Nothing left now but the Secretariat-like procession to the wire. But the cruelty of the Triple Crown gods knows no boundaries. Like the sirens, their song is sweet, and their lure is irresistible, but in the end, only heartbreak awaits those who follow. Now, the gods have hurled down their thunderbolts on one of racing's most beloved heroes ever. And so, the magical Triple Crown journey of Smarty Jones sadly ends in defeat, as adults ask how and young children ask why. The legendary Hall of Fame trainer Woody Stephens, who won an unprecedented five consecutive Belmonts, used to say about those seemingly invincible titans invading his Belmont Park turf, "The buildings get a lot taller once you cross the Hudson River." As it turned out, not even Thoroughbred racing's Superman could leap those buildings. And it was only appropriate that the person chosen to derail the "Smarty Express" was New York's favorite son, Nick Zito, whose towering presence in the Big Apple over the past 15 years has proven an obstacle for many an invader. But despite all his victories in classics and major stakes, the Belmont has been the proverbial thorn in Zito's side. Five times he had finished second in "the test of the champion," with Thirty Six Red, Strike the Gold, Go for Gin, Star Standard, and A P Valentine. Now, with the racing world watching and hoping to witness history, it was Zito's pint-sized Birdstone who denied Smarty Jones the Triple Crown and provided Zito with his first Belmont victory to go along with his 1991 and '94 Kentucky Derby (gr. I) and 1996 Preakness (gr. I) triumphs. The horse assistant trainer Reynaldo Abreu dubbed "Little Man" turned into "Little Big Man," as he wore down a courageous, but rubber-legged Smarty Jones in the final sixteenth to win the 136th Belmont by a length, with Smarty finishing eight lengths ahead of another Zito-trained horse, Royal Assault. The final time for the 11ZØ2 miles was 2:27.50. If anyone deserved this Belmont victory more than Zito it was Birdstone, who failed to grow at all from two to three and became the most maligned 3-year-old on the Derby trail. No one respected him, even though he won the prestigious Champagne Stakes (gr. I) at Belmont last fall. Other trainers scoffed at him. No one wanted to ride him. Only jockey Edgar Prado and his agent, Bob Frieze, believed in him, and even they drew criticism from one trainer back in April who couldn't believe they would choose to ride "a pony" over his horse. But the colt's biggest supporter was Abreu, who was bawling after the race, tears streaming down his face. Birdstone's owner, Marylou Whitney, went over to him after the race and gave him a hug, saying, "You were right." Abreu kept telling Zito, Whitney, and her husband, John Hendrickson, "Don't lose faith in Little Man. No matter what, don't ever lose faith." Now, here he was leading Birdstone, all 900 pounds of him, back to the test barn in front of a stunned and deflated crowd, too drained to pay any attention. Still shaking, Abreu said to the Belmont winner, "You deserve this, little one, you deserve it." He then gave the colt a big slap on the rump. "They said you were too little, but they didn't know how big your heart is." Neither did anyone know quite how big Smarty Jones' heart is. But they do now. With stamina always a nagging question in the back of people's minds, Smarty was asked to do the near-impossible. After sitting in perfect position behind a legitimate :48.65 half, jockey Stewart Elliott sent him to the lead on the backstretch, while putting in a gut-wrenching third quarter in :22.91. That was followed by another testing quarter in :23.68. By the time he neared the quarter pole, he was rolling on the lead, increasing his margin with every stride. The crowd, now in a frenzy, never noticed the mile and a quarter fraction of 2:00.52, which would have won every Kentucky Derby but four. And this was a horse who had had only one slow seven-furlong work in 1:29 1/5 since April 24. Turning for home, it was already obvious Smarty was shortening stride, but still he battled on, leading past the eighth pole. He tried to fight back when Birdstone came to him, but he had no more to give. Had the 36-1 Birdstone not been in the race, Smarty Jones would have won the Belmont by eight lengths, become a part of history, and be mentioned among the sport's all-time greats. But it was not meant to be. Back at the test barn, Abreu was saddened when he saw Smarty's legs literally trembling from exhaustion. This is a horse who drew nearly 10,000 people of all ages to his home track of Philadelphia Park the Saturday after the Preakness just to watch him gallop, some arriving as early as 5 a.m. As the doors leading to the apron opened, there was a mad dash to secure a spot by the rail that looked as if Bloomingdales was running a 75%-off sale. The morning Smarty vanned to Belmont was a scene that transcended anything Thoroughbred racing has ever seen. At 9:30, with three helicopters disrupting the morning silence, two motorcycle police officers arrived, ready to escort Smarty on the first leg of his journey. Officer John Gladu removed his helmet, put on a Smarty Jones hat, then took out his camera and began taking pictures of the horse standing in a grassy paddock adjacent to the loading ramp. "Hey, I'm just a fan." he said. Soon they were off, as people all along neighboring Galloway Road stood in front of their homes photographing and videotaping the van as it went by. Others just gave a double thumbs up, several shouting, "Go get 'em, Smarty." Two Bensalem police cars blocked traffic on busy Street Rd., while an unmarked police car tucked in behind the van. At the tollbooth for the Pennsylvania Turnpike, everyone gathered outside the booths, applauding and cheering for Smarty Jones as he moved through. Shortly after getting on the turnpike, the van passed a billboard that read, "Look out New York, Smarty's Coming!" After leaving Pennsylvania, the van was picked up by New Jersey state troopers, who eventually turned it over to the New York police for the final leg of the trip. This was just a sample of how rampant Smarty Fever had become, especially in the Philadelphia area. Meanwhile, Zito was quietly preparing Birdstone for the Belmont in the tranquil confines of his barn in Saratoga. Zito had no idea what to expect after a winter and spring that had been mostly a nightmare, despite several highs along the way. It all started last fall when Zito unleashed a mighty trio of 2-year-olds in Birdstone; Buckram Oak Farm's Eurosilver, winner of the Lane's End Breeders' Futurity (gr. II) at Keeneland; and Robert LaPenta's The Cliff's Edge, winner of the Kentucky Jockey Club (gr. II) and Iroquois Stakes (gr. III) at Churchill Downs. Suddenly, Zito, although ecstatic over his powerful arsenal of Triple Crown candidates, was burdened with the pressure of being expected to make a major impact on the Derby, while dealing with three owners, all of whom were already having visions of roses dancing in their heads. Zito packed his bags in Kentucky last November and headed for the Palm Meadows training center in Boynton Beach, Fla. Although the first Saturday in May was still some six months away, the presence of the Derby pervaded Zito's life almost on a daily basis. "I'm superstitious, and there's just too much Derby talk," Zito said back in January. "I want everyone talking Derby to me in the spring, not now." All winter and early spring, Zito kept thinking, "Great expectations bring great disappointment." Those words came back to haunt him when April rolled around and Zito had all but fallen off the Derby trail. The Cliff's Edge had been beaten in the Sam F. Davis Stakes at Tampa Bay as the overwhelming favorite, then finished a troubled third in the Florida Derby (gr. I), a race Zito felt he should have won. Eurosilver, after winning a soft allowance race, was defeated in the Swale Stakes (gr. II) the same day as the Florida Derby. After being forced to miss the Toyota Blue Grass Stakes (gr. I) because of a swollen gland, the colt was taken away from Zito by Buckram Oak owner Mahmoud Fustok, who turned him over to Carl Nafzger. Zito was hurt over the move, but accepted it and moved on. Birdstone had also won an easy allowance race, then floundered over a sealed track at Turfway Park in the Lane's End Stakes (gr. II), finishing fifth as the 3-5 favorite. Zito and jockey Jerry Bailey voiced their displeasure on national TV over the decision to seal a dry track. Another setback followed when an elevated white blood cell count forced Zito to scratch Birdstone from the Blue Grass and train him up to the Derby off a six-week layoff. All of a sudden it was April 10, and Zito had to make some fast decisions. He could see the Derby crumbling before his eyes. "It's unbelievable this year," he said at the time. "We're getting down to the one-shot area. I cannot wait for the madness to stop. Hopefully, I can have any kind of starter in the Derby." With The Cliff's Edge now his one big horse, he decided to run him in the Blue Grass and send the lightly-raced and improving Royal Assault, owned by Tracy Farmer, to the Wood Memorial (gr. I). Just when Zito thought the curtain had come down on his Derby chances, The Cliff's Edge won the Blue Grass over Lion Heart, earning a huge Beyer Speed Figure. Royal Assault ran a credible fifth in the Wood, and Zito felt like he had found a legitimate Belmont horse. But Zito's good fortune didn't last long. Over another sealed track in the Kentucky Derby, The Cliff's Edge finished fifth after losing both his front shoes, while Birdstone, who also lost a shoe, again floundered, although his eighth-place finish, while being bounced around along the inside, kept Zito's hopes alive for the Belmont. When The Cliff's Edge suffered a bruised foot at Pimlico that kept him out of the Preakness and would prevent him from running in the Belmont, that left Birdstone and Royal Assault, who won the Sir Barton Stakes on Preakness day, as Zito's two hopes against the mighty Smarty Jones in the Belmont. Also thrown into Zito's Triple Crown mix was Sir Shackleton, who developed quickly to win the Derby Trial (gr. III) before faltering in the Preakness. With Smarty Mania sweeping the country, there was little talk of anyone else, although some felt Preakness runner-up Rock Hard Ten and Peter Pan (gr. II) winner Purge had the potential to threaten Smarty Jones in the Belmont. Zito sent Birdstone to Saratoga to train, while keeping Royal Assault at Belmont. When Birdstone turned in a strong six-furlong work over the deep Oklahoma training track, Whitney, despite wanting Smarty Jones to sweep the Triple Crown and feeling Birdstone was unable to beat him, nevertheless said to Zito, "Go for it." For Zito, it had been a frustrating year, especially with Birdstone. The half-brother to last year's champion 3-year-old filly, Bird Town, was a late foal, being born on May 16 and still small. "I just can't understand it," he said. "This poor horse has never gained a pound, and has never grown an inch. But he's got guts and he has a right to run in the Belmont Stakes." Few agreed, and there was little or nothing good said or written about the horse. "Everybody's been knocking this horse all along, and even (Jerry) Bailey deserted him," Abreu said. "All because he's little. I don't want to hear it. I know he's little; what can you do about it? There's nothing wrong with being small. All I know is that I love this horse. He's a running s.o.b. and he tries so hard. His only two bad races were on a sealed track. I'm telling you, they better have their running shoes on." Birdstone has been suffering indignities ever since he was a young horse. When he was sent to Padua Stables in Ocala, Fla., to be broken, it was learned after he arrived that he had been sent by mistake. The horse that was supposed to be shipped was a Storm Cat colt, whom Overbrook Farm and Whitney owned in a foal-sharing partnership. Farm trainer Randy Bradshaw was asked to check the newly arrived colt's papers, which indicated he had a good deal of white on him. Bradshaw informed the parties involved that this was just "a plain little old bay." The colt remained, and Bradshaw wound up breaking a future Belmont winner. He recalls calling Zito and telling him, "He's not very big, but he does everything right, he's training well, and he's very professional." Birdstone shipped down to Belmont from Saratoga the Wednesday before the Belmont, the same day Smarty Jones arrived. No one noticed. The next day, with the massive throng gathered outside Smarty's barn, and the path to the track leading right past the barn, Zito elected to keep Birdstone away from the madness and sent him and Royal Assault to the training track. No one noticed. "I can't believe it over there," Zito said, referring to Smarty's barn. "I'm just going to the training track; it's nice and calm there." Smarty, meanwhile, went to the track just after 5:30. Owner Roy Chapman arrived in a mini-van, and was wheeled to the gap where he watched his colt gallop, with trainer John Servis alongside aboard the pony Butterscotch, who had been kicked by Smarty the morning before as they were returning from the track. Zito, like Whitney, had no grandiose visions of upsetting Smarty Jones. "I don't see how Smarty is going to get beat, unless he beats himself," Zito said. "But what's wrong with finishing second to a hero? If someone is going to beat him, they're going to have to have a very good day and move way forward, while he has to move way back. But we're looking at it positively. You have to." Zito took some comfort in knowing that if he did manage to pull off the upset, he, as a New York hero himself, might have a better chance of escaping the wrath of the crowd than if someone else perpetrated the dastardly deed. "The one thing I have going for me is that I do have the New York deal going, so maybe I'll get a little break. They'll only throw one beer can at me instead of the whole six pack," he said. The morning of the race, Frieze stopped by the barn, which as usual was devoid of reporters or photographers. "Don't worry," Frieze told Zito. "We want the press here tomorrow, not today." The ominous weather forecast of a cold rain all day and heavy winds never materialized, with only a few light sprinkles falling on Belmont during the day. The crowd, as expected, came pouring in early and continued to arrive until late in the afternoon, shattering the old record of 103,222 set two years ago. Smarty Jones was sent off the 3-10 favorite, with Rock Hard Ten at 6-1 and Purge at 9-1. Rock Hard Ten, as he did before the Preakness, acted up behind the gate, lashing out several times. He finally decided to go in after jockey Alex Solis dismounted and he was blindfolded. The start was clean, with the exception of Royal Assault, who had to check when Rock Hard Ten came out in his path. Smarty Jones broke sharply from the outside post in the field of nine and outran Eddington to the first turn. Elliott tried to take a hold of him and get position but Alex Solis on Rock Hard Ten floated him out going into the first turn. Purge, breaking from post 2, showed good speed and held a slight advantage over Rock Hard Ten, with Smarty Jones in good position just outside those two. Prado was content to settle Birdstone in seventh, then eased him up into fifth, while racing about five paths off the rail. The opening two fractions over the blazing-fast track were tame enough, but the tempo picked up noticeably when Bailey sent Eddington up to challenge outside Smarty Jones. Rock Hard Ten then made another move at him from the inisde. Servis could tell Smarty was not as relaxed as he had been in the Derby and Preakness. Earlier in the week, Servis said Elliott was going to have to shine in the Belmont. "Let's face it, we got a bullseye on our back," he said. Apparently he was right. "When he was dragging Stewie out of the saddle on the backside, I had a bad feeling," Servis said. "You can't do that and win going a mile and a half. That was one of the things that helped us in the Derby and the Preakness; he relaxed so well. He just didn't relax today." Prado eased Birdstone out off the rail, and was able to get him to settle nicely, some three to four lengths off the lead. Elliott, feeling the pressure from Eddington on his outside and Rock Hard Ten and Purge on his inside, decided he'd have a better shot of getting Smarty to relax if he got him to the lead. But it took a testing quarter to get him there, and another testing quarter to keep him there. By the three-eighths pole, he had managed to run his three pursuers into the ground and quickly opened a clear lead as the crowd went crazy. The three big contenders were cooked. But Prado still had a ton of horse, and it was time to pick up the pieces. "I knew I had a good chance to win at the three-eighths pole, when my horse kept coming slowly and Smarty wasn't able to open up any more," he said. "I knew all he had to do was maintain his speed and his pace and he was going to get there." Prado and Birdstone went after Smarty out in the middle of the track and suddenly the dream started evaporating right before everyone's eyes. Each one of Birdstone's little strides brought him closer to Smarty. Everyone knew by then that Smarty would have no ammunition left with which to fight back, and the wire was not coming up nearly fast enough for him to hang on. Then came the familiar hush from the crowd, as it realized all was lost. Smarty was beaten for the first time in his career. Another body had joined the five others (Silver Charm, Real Quiet, Charismatic, War Emblem, and Funny Cide) recently strewn just below the summit of racing's most elusive peak. In the stands, people were crying. Even Whitney was near tears, not for her victory, but for depriving Smarty his chance for immortality and for what a victory would have done for the sport. "I feel so awful for Smarty Jones," she said. "We were hoping we'd be second. I love Smarty. He's done more for racing than anyone I've ever known."
When congratulated on his victory, all Hendrickson could say was, "No, that was bad." Servis came over to Zito, who was more restrained in his emotions than usual, and offered his congratulations. When Zito apologized, Servis said, "What do you mean? You did a great job." But for Birdstone, there still was one final indignity. Just as Abreu was about to lead the horse into the tunnel to return to the backstretch, he was instructed by the outrider to walk back along the track to another backstretch gate. When he arrived, however, the gate was locked, with the locks held together by plastic cords. Abreu went from feelings of ecstasy to anger as he found himself stranded with a horse that needed water and to relax after his grueling trip. Fortunately, he had a pair of scissors in his pocket and was able cut through the plastic. But his problems were far from over. By now, cars were piling out of the track, and as Abreu, Birdstone, and several others from Zito's crew tried to make their way through the traffic, a stretch limo nearly ran into Birdstone. A number of patrons helped stop traffic while an incensed Abreu finally was able to lead Birdstone to the test barn. While Birdstone's safety was totally ignored, Zito was given an escort to the backstretch by New York Racing Association investigator Juan Dominguez, who ironically is a nephew of the late Laz Barrera, trainer of racing's last Triple Crown winner in 1978, Affirmed. Zito stopped along the way to sign autographs before going back to check on his horse. "Well, they're not booing," he said. Outside his barn, he was greeted by Gloria Sussman, who claims to be Zito's number one fan, and who had just been released from the hospital. Her incentive was to get to see the Belmont and meet her favorite trainer. In a final bit of irony, Zito later pointed out that his birthday, Feb. 6, is the same as that of former President Ronald Reagan, who died earlier Belmont day. It was Reagan's death that actually was the first foreboding sign for Smarty Jones, as it meant that for the first time during the Triple Crown, Smarty would be kept off the front pages of newspapers and covers of magazines. Also, the weather front, which was supposed to dump a good deal of rain on Belmont all day, split just south of New York and passed harmlessly by to the east and west. If that front had not split and instead hit New York as predicted, they would have sealed the track, and Birdstone would have been scratched, according to Zito. If there was one thing that Zito was proud of it was the perseverance shown by his entire crew, Whitney and Hendrickson, and of course the little big horse, Birdstone, who perhaps now will be given the respect he has proven he deserves. "We took a lot of punches in the Triple Crown and we just kept fighting and fighting and fighting," Zito said. "At times, it didn't seem fair, but there was a reason for everything. It was just an incredible turn of events." For Servis and the entire Smarty Jones crew, there was no reason to hold their heads down. They brought an electricity to Thoroughbred racing seldom seen. The tidal wave of media coverage they generated swept across the country, picking up everyone in its path and depositing them on some magical, enchanted island. Some day, some horse will come along and become the 12th Triple Crown winner. And with it will come the immortality so many have sought over the past 26 years. But the journey getting there will never equal that of the Smarty Jones odyssey, and for that the Pennsylvania-bred will indeed achieve immortality. Not in the record books, but in the hearts of everyone who came along for the ride.



Copyright © 2015 The Blood-Horse, Inc. All Rights Reserved.