Racing At Its Very Best
by Ray Paulick
Date Posted: 6/8/2004 8:31:54 AM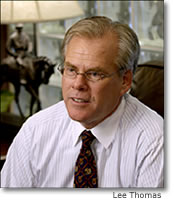 Ray Paulick
Editor-in-Chief


Haven't we been here before? A horse, one that by the first Saturday in June is carrying too heavy an impost--an entire industry--for any Thoroughbred, is caught and passed in the cruel stretch of New York's Belmont Park. You can complain that everyone ganged up on Smarty Jones, say he got a questionable ride from Stewart Elliott, or conclude that his miler pedigree finally caught up with him somewhere between the 10th and 12th furlong of America's longest classic race. The fact is Smarty Jones did not join the pantheon of 11 Triple Crown greats whose latest members are Secretariat, Seattle Slew, and Affirmed. Instead, he is listed with the likes of Spectacular Bid, Pleasant Colony, Alysheba, Sunday Silence, Silver Charm, Real Quiet, Charismatic, War Emblem, and Funny Cide--horses good enough to win the Kentucky Derby (gr. I) and Preakness (gr. I), but who for various reasons could not finish the Triple Crown job by winning the Belmont (gr. I). And the Smarty Jones camp knows that's not bad company to keep. Some of the Triple Crown stoppers have been more difficult to stomach than others. Even without knowing that Spectacular Bid stepped on a safety pin the morning of the race, it was painful to watch this great champion be ridden so amateurishly. Pleasant Colony and Alysheba appeared to wither under the tough circumstances of three testing races in five weeks, giving their all in the Belmont but just not having what was needed. Sunday Silence, a brilliant horse who thrived on the tighter turns of Churchill Downs and Pimlico, was a fish out of water when Easy Goer thrashed him on Belmont's mile-and-one-half oval. Silver Charm was a fighter sucker-punched by Touch Gold, so cleverly ridden by Chris McCarron. Real Quiet had his fuel tank emptied too soon and ran out of gas in the shadow of the finish. Charismatic finished his Triple Crown run on three sound legs. War Emblem lost his chance at the start when stumbling badly, and Funny Cide was compromised by a messy track and lost to Empire Maker, who many considered the superior runner anyway. I'm not ready to concede that Birdstone is superior to Smarty Jones, though his classic win was a fair-and-square accomplishment. It gave the near-future Hall of Famer Nick Zito a long-awaited training Triple Crown that followed Derby and Preakness victories in the 1990s, and paid back owner/breeder Marylou Whitney a small token of what she has given so generously to the game in so many ways. This was not the ending the majority of racing fans wanted, but it is one about which there should be few if any complaints. It was, simply, Thoroughbred racing at its very best, from the opening of the starting gates at Churchill Downs until the blanket of carnations was draped over Birdstone at Belmont Park. Tens of millions saw this year's Visa Triple Crown Challenge--television ratings soared--and those new to the sport could only walk away knowing how much intrigue, excitement, and integrity Thoroughbred racing offers. It is a sport where kings and commoners are on equal footing, dreams come alive, and the most common thread among winners and losers is humility and respect for the game itself. With each Triple Crown near-miss, the interest in racing's biggest prize appears higher. An amazing 120,139 people were on hand in hopes of watching Smarty Jones make history, close to doubling the 67,000 who saw Secretariat end a 25-year Triple Crown drought in 1973. The public should not be discouraged when these valiant animals fall short of grabbing onto a prize that some observers now call the toughest in all of sports to secure. Neither should Roy and Patricia Chapman, John Servis, Stewart Elliott, and anyone else who had anything to do with the rise of Smarty Jones. They are in very good company and should feel proud of what they have helped achieve and given to the sport.
E-mail Ray Paulick



Copyright © 2015 The Blood-Horse, Inc. All Rights Reserved.