Zito Says Belmont is Biggest Win of Career
by Ron Mitchell
Date Posted: 6/6/2004 5:28:38 PM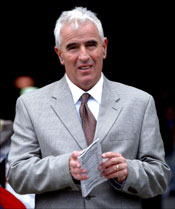 Trainer Nick Zito adds a Belmont victory to his resume.
Photo: Rick Samuels

Although he has trained winners of nearly every major race in North America, including the Kentucky Derby (gr. I) twice, trainer Nick Zito said Saturday's victory by Birdstone in the Belmont Stakes (gr. I) was the highlight of his career.A native New Yorker, Zito had saddled five horses to finish second in the Belmont from 11 attempts previous to Saturday. Zito-trained Royal Assault finished third in the Belmont.Owned by Marylou Whitney Stable, Birdstone won the Belmont by a length, denying Smarty Jones' bid for the coveted Visa Triple Crown Challenge."When I walked to the barn from the paddock, I had the same feeling I have at the Derby and Preakness," Zito said. "Now it's the equal of those two. I had a couple of good premonitions. It was our biggest win because of the magnitude and everything that took place. We just had a good feeling yesterday. If we could win the Belmont Stakes, I am glad to be part of history."With a steady rain falling at Belmont Park on Sunday morning, Zito reflected on Saturday's victory and the possibility of his horses not running.He said If it had rained Saturday as forecast and the main track at Belmont Park had been sealed, Birdstone and third-place finisher Royal Assault would not have run in the 1 1/2-mile classic.Noting that Birdstone had fared poorly in two previous starts on tracks sealed to enable water to roll off, Zito said the son of

Grindstone

and his stablemate would have scratched "because it would not have been fair."Zito said he could not help but feel sorry for Roy and Patricia Chapman, owners of Smarty Jones, who finished a gutsy second to Birdstone."I did feel sorry for that horse," Zito said when asked about his feelings following the victory. "Most people have feelings, so it's only normal if you have feelings to feel sorry. Hopefully, he (Smarty Jones) stays healthy and sound. He will be the all-time money winner, I guess."With eights wins and a second in nine starts, Smarty Jones ranks fourth on the earnings' list, with $7,614,155 in purses. Birdstone, winner of four of seven starts, has earned $975,600.With his first Belmont win under his belt, Zito is now taking aim at another major race that has proven elusive to him, noting that Birdstone will be shipped to Saratoga and pointed toward the Travers Stakes (gr. I) on Aug. 28. He also said there is a possibility the colt could face older horses in Saratoga's Whitney (gr. I).As for Royal Assault, Zito said the son of Kris S. Zito said, "That horse ran huge yesterday. That horse is going to get better."At one point during the press conference, Zito was told that trainer Bobby Frankel, whose Master David finished seventh in the Belmont, said if Birdstone ran against Smarty Jones in two months, "it would be no contest.""Oh, I don't want to hear what Frankel said," was Zito's response. "What Frankel said-what are you kidding me? That's the quote of the year. Where was he yesterday?3ò4 Hello. Get out of here, please. Could you imagine that.3ò4 Frankel: 'It would be no contest.'3ò4 He needed Allen Jerkens to train his horse yesterday.3ò4 Come on, please.3ò4 No contest.3ò4 I don't know how people could say that.3ò4 He ain't spoiling my victory, I can tell you that.3ò4 He's got the wrong person.3ò4 Get lost.3ò4 Next question."



Copyright © 2015 The Blood-Horse, Inc. All Rights Reserved.