Servis: Smarty Jones Had a 'Bulls-Eye' on Him
by Ron Mitchell
Date Posted: 6/6/2004 5:21:13 PM
Last Updated: 6/6/2004 5:26:57 PM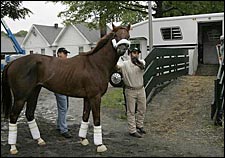 Smarty Jones prepares to board a van at Belmont Park on Sunday.
Photo: AP/Ed Betz

Trainer John Servis said he was "disappointed" for owners Roy and Patricia Chapman that Smarty Jones' bid for the Visa Triple Crown Challenge came up short when he finished a gutsy second to Birdstone in the Belmont Stakes (gr. I) but that he was proud of the effort given by the colt Saturday."I am disappointed for Mr. and Mrs. Chapman, but I am very proud of what we accomplished," Servis said Sunday morning before his Elusive Quality colt boarded a van for the ride back to his stable base at Philadelphia Park. "I couldn't be happier. We won the Kentucky Derby (gr. I), the Preakness (gr. I), and the Arkansas Derby (gr. II) and we came into the Belmont undefeated. I told him (Smarty Jones) he ran hard. We didn't get the outcome we wanted but we had a great run."Servis said he believes the strategy employed by others in the race played a role in the upset victory by 36-1 shot Birdstone. Servis said Smarty Jones' chances of victory were compromised by the early tests because he lacked the ability to relax.``If he had settled, he would have got 1 1/2 miles,'' Servis said. ``You would have had a Triple Crown winner, I guarantee that. In my heart, I feel he was the best horse.'' ``If you got a horse going for the Triple Crown, he's got a bulls-eye on him. Those people have nothing to lose,'' he said. ``You pull out all the stops.'' Purge took the early lead while being stalked by Smarty Jones, with Eddington and Rock Hard Ten challenging the Derby-Preakness winner once he took the lead. "They had nothing to lose so they sacrificed their horses," Servis said of the strategy employed by the competition. "I don't know how their horses came out of the race, but my horse came out of it pretty good."Eddington and Rock Hard Ten finished fourth and fifth, respectively in the Belmont, with Purge last in the nine-horse Belmont field.Servis refused to blame jockey Stewart Elliott for a bad ride. ``Stew did a good job. You can't drag him off the pace,'' Servis said. ``He was a little upset. He felt he would have settled if those guys hadn't pressed him so hard,'' Servis said of Elliott. ``He knew they were just sacrificing their horses. He had horses breathing down his neck. I kind of thought it would set up like that.'' Noting that Nick Zito, trainer of Birdstone, is a native New Yorker who had not won the Belmont, was a deserving victor. "In the beginning of the year he was loaded for bear," Servis said of Zito. "It's amazing how things turn out."Despite the setup of the Triple Crown that make it hard to win, he would not endorse changing the timing or distances of the three races, Servis said. "That's what makes it so tough to win," he said.Servis said Smarty Jones, who did not eat as well Sunday morning as he normally does, will be given three or four weeks of rest before being put back in training and pointed toward the Breeders' Cup World Thoroughbred Championships at Lone Star Park in Texas. Servis said the dual classic winner would be likely be given at least one start against older horses before running in the Breeders' Cup.Owners Pat and Roy Chapman will be visiting Kentucky horse farms to negotiate Smarty Jones breeding career, with one of their criteria being the ability of the horse to have easy access to fans. But Smarty's racing days aren't over yet. After a break, he could run in the Pennsylvania Derby at his home track in September as a thank you to the local fans. Then there's the Breeders' Cup in Texas. As for plans to race Smarty Jones next year, Servis said, ``They really want to run him next year, even if it's only a couple of races."



Copyright © 2015 The Blood-Horse, Inc. All Rights Reserved.