Birdstone Upsets Smarty Jones in Belmont
by Dan Liebman
Date Posted: 6/5/2004 9:49:56 PM
Last Updated: 6/8/2004 7:35:23 AM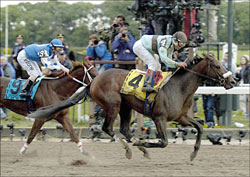 Birdstone passes Smarty Jones in the stretch to win the 136th running of the Belmont Stakes.
Photo: Mike Corrado

A record crowd of more than 120,000 went from a roar to silence today at Belmont Park as Birdstone upset Smarty Jones in the Belmont Stakes (gr. I) and denied racing its 12th Triple Crown winner.Stewart Elliott sent Smarty Jones to the lead early on the backside and the Kentucky Derby (gr. I) and Preakness Stakes (gr. I) winner was pressed most of the way down the backstretch, first by Eddington and then by Rock Hard Ten.Smarty Jones put both of those horses away, but Edgar Prado had Birdstone moving well and he came up on Smarty Jones' outside with a furlong to run and gutted out a one-length win."He kind of drug Stew to the lead. He didn't settle as easily as he had in his other races," Smarty Jones' trainer John Servis said immediately after the race."I was pressured by still felt like I had enough horse," Elliott said.Prado, who rode the winner, apologized for spoiling yet another Triple Crown bid. "I'm very sorry," Prado said, "but I had to do my job. This is just part of the business.""He deserves a rest; maybe that's why he was so rank," Servis said. "I knew the way he was dragging Stewart to the lead that he wasn't as relaxed as he was in his previous races."I knew when they started down the backstretch he was going to have a tough time. He wasn't relaxed. He never settled."Smarty Jones had won eight straight races and sought to become the first Triple Crown winner since Affirmed in 1978. He became the ninth since that year to win the Derby and Preakness and come up short in the Belmont, joining Spectacular Bid (1979), Pleasant Colony (1981), Sunday Silence (1989), Silver Charm (1997), Real Quiet (1998), Charismatic (1999), War Emblem (2002), and Funny Cide (2003).Birdstone is owned by Marylou Whitney, who bred the son of Grindstone in Kentucky. He is trained by Nick Zito, a New Yorker who had previously run 11 horses in the Belmont and finished second five times.Royal Assault came on to finish third, followed by Eddington, Rock Hard Ten, Tap Dancer, Master David, Caiman, and Purge.Smarty Jones stood to earn a $5-million bonus from Visa had he won the Belmont. When he won the Derby, he won a $5-million bonus from Oaklawn Park for winning the Rebel Stakes, Arkansas Derby (gr. II) and Kentucky Derby.Servis said as he had before the Belmont that Smarty Jones will now get a rest and then gear up for a fall campaign.There was a bit of pre-race drama. First, in the paddock, Caiman kicked the son of his assistant trainer. Then Rock Hard Ten, who was a handful when the field loaded for the Preakness, had to be blindfolded to be loaded today.The field walked onto the track at 6:36 and Smarty Jones, having the outside post in the nine-horse field, was last. Elliott had him well behind the others as the crowd roared when it saw him.Rock Hard Ten was loaded first and Alex Solis had to jump off as he was led in by the assistant starters. The field broke from the gate at 6:48 and Smarty Jones broke sharply. Rock Hard Ten went for the lead and Purge, under John Velazquez.When Elliott moved Smarty Jones to the lead after a quarter in :24.33 and a half in :48.65, he went six furlongs in 1:11.76. Eddington, ridden by Jerry Bailey, then put on some pressure and Rock Hard Ten came up on the inside and also made Smarty Jones keep being had ridden. The mile time was 1:35.44."When I couldn't get him that break that I needed early, I was planning on trying to get a nice eighth or quarter in somewhere and it didn't happen, Elliott said."Smarty Jones had a length and a half lead out of the turn for home, the 10-furlong split 2:00.52. Elliott tried to get Smarty Jones home but said he thought the Belmont distance of a mile and a half caught up with Smarty Jones.The final time was 2:27.50."We kept telling Prado to run second," Whitney said. "We all wanted Smarty Jones to win the Triple Crown. But this means a great deal to us, winning the Belmont with a homebred.""I think this is my greatest win, obviously," Zito said. "The magnitude, because of what Smarty Jones brought to the table. This is very fulfilling for me after being second five times."Birdstone, out of the Storm Bird mare Dear Birdie, won the Champagne Stakes (gr. I) last year but had won only one of three starts this year, an allowance race on Feb. 14. In his last two starts, he had encountered tough racing luck. He ran fifth in the Lane's End after having to steady twice, and was eighth in the Kentucky Derby (gr. I) being steadied and shuffled back early.Zito said when Birdstone worked well on May 29, galloping out strong, Whitney told him to take a shot in the Belmont. The workout was over the Oklahoma training track at Saratoga.This is the second time Prado had spoiled a Triple Crown bid. He rode Sarava in 2002 when War Emblem stumbled coming out of the gate and lost all chance in the Belmont. Sarava paid $142.50.Birdstone paid $74, $14, and $8.60. Smarty Jones, who went postward at 1-5, returned $3.30 and $2.60. Zito also trains Royal Assault, who finished third and paid $6.10.Smarty Jones was the biggest Belmont favorite since Spectacular Bid lost the Triple Crown in 1979 at 30 cents on the dollar.



Copyright © 2015 The Blood-Horse, Inc. All Rights Reserved.