Orman, Rock Hard Ten Not Running for Second
by Evan Hammonds
Date Posted: 6/4/2004 7:57:06 PM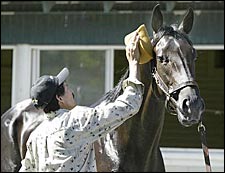 Rock Hard Ten is washed by groom Jose Mejia Friday.
Photo: AP/Amy Sancetta

Jason Orman, trainer of Preakness (gr. I) runner-up Rock Hard Ten, is taking aim once again at Smarty Jones in Saturday's Belmont Stakes (gr. I), saying "If we were running for second, we wouldn't be here." Standing outside his barn on the Belmont Park backstretch Friday morning, the young trainer admitted, however, that Smarty Jones will have to "regress a little bit for us to beat him."Orman said the sizable son of Kris S., out of the Mr. Prospector mare Tersa, "will have to improve to get to that level." He also noted it may take Rock Hard Ten several months to get there by saying "He might be a better horse in the fall."He said Smarty Jones has been "unbeatable so far. His last race (the Preakness) was the best race I've seen all year."Orman stacked up his strategy for Rock Hard Ten and Smarty Jones. "(Trainer) John (Servis) seems a little worried about the other guys are going to do; but Stewart Elliott will know what to do. I think a lot of people will want to be within a length or two of him (Smarty Jones), watching to see where he is. He'll dictate the pace."Rock Hard Ten will be making just his fifth career start in the Belmont. After winning his first two races, he then ran a game second in the Santa Anita Derby (gr. I), but was disqualified from second to third for bearing in on Imperialism in deep stretch. The dq proved costly, as it kept him out of the Kentucky Derby (gr. I) due to his limited graded earnings. He then surfaced in Baltimore, where he finished second in the Preakness (gr. I), 11 1ò2 lengths behind Smarty Jones.Gary Stevens was aboard Rock Hard Ten in his first two starts and in the Preakness. Commitments to ride in Europe forced Orman to find a replacement. He selected Alex Solis. "Alex is a good rider," Orman said. "He'll handle him the way he feels best. I don't like to tell jockeys too much."Orman will not only be saddling his first horse in the Belmont Stakes, but his first horse ever at Belmont Park. The 36-year-old Orman said while he has had his trainer's license for about 10 years, he only went out on his own in January. Mercedes Stable and Madeleine Paulson's Rock Hard Ten was in the first group of horses he had to start with last June. Orman's father, trainer Mike, used to train for Ernie Moody, who races under the nom du course Mercedes Stable. The younger Orman worked for his father while growing up in Calgary, Canada before they pulled up stakes and headed to Southern California when Jason was 16. Jason attened high schools in Calgary, Ottawa, and Fallbrook, Calif. He attended Laurentian College in Sudbury, in north Ontario for two years before returning to the racetrack."It's tough to make a living there," Orman said of the racing at Stampede Park in Calgary. "The purses are small."Jason Orman also worked for trainer Tim Pinfield in Saudi Arabia and Singapore.But the hard work for his father paid off in getting his Rock Hard Ten and others from Mercedes Stable. "He's a loyal guy," Orman said of Moody. "He could have gone to one of the bigger named guys, but he put his faith in me. It's a good feeling that he has that kind of loyalty."



Copyright © 2015 The Blood-Horse, Inc. All Rights Reserved.