Little Sisters of the Poor Rooting for Smarty
by Evan Hammonds
Date Posted: 6/4/2004 11:01:32 AM
Last Updated: 6/4/2004 11:55:02 AM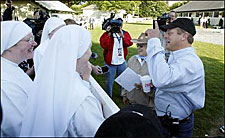 Smarty Jones' trainer John Servis, right, points skyward while making a joke with the Little Sisters of the Poor nuns.
Photo: AP/Gregory Bull

As Smarty Jones got his bath after gate-schooling and galloping around the Belmont Park oval Friday afternoon, Barn 5 got a little devine intervention: a surprise visit from the Little Sisters of the Poor. Five sisters, dressed in white habits emerged on the backstretch, carrying photos of Smarty Jones that said "God Speed Smarty Jones."Three of the women were from Philadelphia and two were from New York City. They came to Belmont Park after visiting a friend in a nearby hospital. They said they had become fascinated with the horse and wanted to see him.The nuns: sisters Sheila, Bernice, Mary John, Patricia, and Mother Margaret, interest in the colt shows just how big the Smarty Jones phenomenon has become.In a surprise move, trainer John Servis invited them into the barn area for a little one-on-one with the Triple Crown hopeful.



Copyright © 2015 The Blood-Horse, Inc. All Rights Reserved.