Servis to Press: It's Time to Dance
by Evan Hammonds
Date Posted: 6/4/2004 2:26:26 PM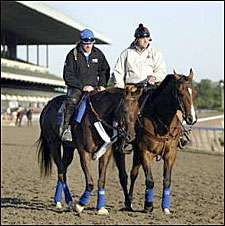 Belmont Stakes favorite Smarty Jones, left, with exercise rider Pete Van Trump aboard, walks with trainer John Servis atop stablemate Butterscotch at Belmont Race Track on Friday morning.
Photo: AP/Amy Sancetta

At the daily press conference outside Barn 5 at Belmont Park Friday morning, trainer John Servis' opening remarks were "I feel real good." He acknowledged that Smarty Jones was ready for his bid for the Triple Crown on Saturday and said the undefeated runner "knows it's time to dance."Servis seemed relaxed while answering questions from an oversized audience of reporters and television crews, considering he and his horse are just over 24 hours away from making a bid to become the 12th winner of the Triple Crown. The press conference took place just after 9 a.m., about an hour after Smarty Jones had been schooled at the gate, galloped over the Belmont track, had been bathed, and put back in his stall."He was very strong today," Servis said of Smarty Jones' gallop that took place with owners Roy and Patricia Chapman looking on. "He knows what's coming and he's getting his game face on."Smarty Jones galloped under exercise rider Pete Van Trump with Servis attending under his pony Butterscotch. "We both had to hold him back," Servis said. "I got after Pete a little bit for not helping me out a little more," he joked."After he works, he knows he's getting ready. He knows it's coming close. He knows it's time to dance."Servis said the gate schooling "didn't bother him. There were two other horses with him, and it all went great. He's become very, very professional."Servis said that Smarty Jones would walk Saturday morning, get a bath, then walk again before getting his breakfast. "When he only walks, he knows it's race day." Servis said his chestnut star would probably lay down and rest later in the day.The weather forecast for Saturday's Belmont Stakes (gr. I) is less than ideal for an expected record crowed, with temperatures in the mid-50s and rain. Smarty Jones has handled off tracks before, winning the Arkansas Derby (gr. II) on a muddy track and the Kentucky Derby (gr. I) on a sloppy track. Servis said he didn't think it would be an advantage for Smarty Jones.Race tactics were also brought up at the press conference. "I have several scenarios running through my head, but I don't want to say," Servis said. "I don't want to have to force anybody's hand. I'm just hoping for a clean trip."Placing Smarty Jones among the pantheon of great Thoroughbreds, Servis said, "I compared him to Seattle Slew early on." Seattle Slew is the only undefeated winner of the Triple Crown, making the sweep in 1977. "The way (Smarty Jones) he has learned to settle and relax, it's made him a better horse. If he wins the Belmont, you can compare him to Seattle Slew."Smarty Jones drew another comparsion to Seattle Slew from Slew's trainer, Billy Turner. "It's like Billy Turner said, when you see Smarty Jones get a bath, he looks like any other horse," Servis said. "But when he puts the bridle on and is led over to the paddock, he becomes, like my son said, 'a beast.' He's just a machine."Asked about his nerves, Servis said, "Before the Arkansas Derby, I was nervous. Since then, I really haven't felt any pressure. I've been a little nervous in the paddock, but it's my job to keep calm."Servis was asked about the whole Smarty Jones phenomenon and how it's captured the imagination of the American public. "The whole story, it's unbelievable how it's taken off," Servis said. "Since we got back to Philadelphia after the Derby, it's been crazy. It's snowballed. Everybody has adopted him as the 'feel good' horse. It's a great story, it has a lot of twists to it. The timing is another thing. It's like (Oaklawn Park owner) Charles Cella said of people being tired of looking at all the bad news on the front page that they're going to the sports page and reading about this little red horse. Hopefully, people will fall in love with the sport again."The country has been waiting for a Triple Crown winner," he said. "I know now why it's so tough.Servis' day is fully packed. Following the press conference, he was scheduled to attend a luncheon sponsored by Visa at the Garden City Hotel, then maybe take a nap prior to a radio interview on the "Mike and the Mad Dog" show on WFAN. WFAN will be broadcasting live from the apron at Belmont Park Friday afternoon.



Copyright © 2015 The Blood-Horse, Inc. All Rights Reserved.