Teen Tracks: Eddington May Live Up to the Hype
Date Posted: 6/3/2004 9:35:29 AM
Last Updated: 6/3/2004 9:52:24 AM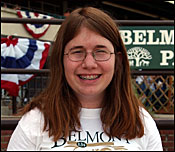 Teen Tracks Reporter
Carly Silver


One of the most common catch phrases in sports is "don't believe the hype". In horse racing, that is no exception. This year's Triple Crown trail has been an uncertain one, with many key contenders being injured or not performing well. Many horses have been "hyped", then failed to meet the high standards set for them. One horse that has been "hyped" is Eddington, a chestnut son of Unbridled. Only, this time, you can say "believe the hype". Based on his classic-oriented pedigree, Eddington is a surefire contender for the last jewel of the Triple Crown, the Belmont Stakes. Eddington's sire is Unbridled, the 1990 Derby and BC Classic winner, who distinguished himself as a successful classic sire. Unbridled's progeny includes CCA Oaks victress and champion Banshee Breeze, 1996 Derby winner Grindstone, and 2003 Belmont victor Empire Maker. Unbridled's sire was the excellent sire Fappiano, a gr. I winner of the Met Mile and sire of such progeny as champion Rubiano and classic sireQuiet American. Unbridled's dam was Gana Facil, dam of Wood Memorial winner Cahill Road. Gana Facil's dam was Charedi, dam of stakes winner and useful sire Pentelicus. Charedi was out of Magic, dam of stakes winner Magnificence and Mazurka, second dam of g. I winner Cavonnier. Magic was also the ancestress of Japan Derby winner Tayasu Tsuyshi, and stakes winner Coolawin. In turn, Magic was out of the great matron Aspidistra, also dam of two-time sprint champion Ta Wee, in turn the dam of several stakes winners. Most importantly, Aspidistra foaled the incomparable Dr. Fager, the headstrong, speedy champion who powered through an awesome 1968 season en route to Horse of the Year honors. This line traces back to The Prarie Bird, second dam of Ascot Gold Cup winner Bird of Freedom, and thence back to Penelope. Eddington's dam is Fashion Star, a daughter of Chief's Crown. Fashion Star's dam was Miss Ivor, by the Epsom Derby winner Sir Ivor. Miss Ivor foaled French group I winner Miserden. Miss Ivor was out of Sandy Blue, a g. II winner of the Hollywood Oaks. She dropped gr. III winner Window Seat. Her dam Blue Nola was relatively undistinguished. Blue Nola was out of Miss Sassie, by Free America. Miss Sassie was a stakes winner, and the dam of stakes winner Gay Lynne. Miss Sassie was also a half-sister to stakes winner Extra Swell. This line traces back to Cantadora, ancestress of Honeymoon and Santa Ynez S winner Solid Thought, dam of European champion Gentle Thoughts, stakes winner Injunction, and English group I winner Junius, sire of group I winner Stangrave Park. Cantadora was also the ancestress of stakes winner Beccari, Yorkshire Cup winner Eastern Mystic, French group I winner Treizieme, grade I winner Bequest, and group III winner Tide of Fortune. Cantadora, in turn, was out of Comeover, second dam of stakes winner Eatontown and ancestress of stakes winners Noble Nature, The Fierce Look, Cat Singer, and others. Comover's dam was Traverse, the second dam of stakes winners Home Flight, and the ancestress of Lone Fisherman, Beverly H. winner Traffic Court, dam of Santa Anita Maturity and Woodward S. winner Traffic Court and Preakness winner Hasty Road, stakes winner Salty Susie, Tremont winner Clover Leaf, and stakes winner Drawbridge and Tranmute. Traverse was out of Perverse, winner of the Champagne S., and the ancestress of stakes winner Moody, Alabama and Lawrence Realization winner Vexatious, and Jockey Club Gold Cup H winner Diavolo. Ak-sar-ben Futurity winner Powdered Again, stakes winner Brick Dust, Cherry Hill S. winner True Flight, and stakes winner Melodist all descend from Perverse. Perverse was a ½-sister to Champagne winner Stalwart. This line traces back to Trill, dam of stakes winner Musette and ancestress of Churchill Downs H. winner My Bill, and thence back to Castagnette, ancestress of Champagne S. winner Cascade, CCA Oaks winner Polka Dot, Belmont winner Pasteurized, Aqueduct H winner New Moon, stakes winner Rattlemark, etc. Further back, this line traces to the incomparable Pocahontas. She was the dam of the "Emperor of Stallions", Stockwell, a dual classic winner and champion sire 7 times, Rataplan, sire of Irish Derby and 4-time Queen's Plate winner Ben Battle and Epsom Derby winner Kettledrum, King Tom, sire of triple classic winner Hannah and Epsom Derby winner Kingcraft, Araucaria, dam of Oaks and 1,000 Guineas winner Camelia, classic winner and precocious 2 yo. Chamant, and St. Leger winner Rayon d Or, an excellent sire, Gardenia, ancestress of Caveat, and Indiana, ancestress of French classic winner Kizil Kourgan and French Derby and Arc de Triomphe winner Ksar, sire of the great Tourbillon and 1,000 Guineas winner Le Ksar. As is clearly visible, from the numerous connections to classic winners, Eddington is very well suited to the distance of the 1 ½ mile Belmont Stakes.



Copyright © 2015 The Blood-Horse, Inc. All Rights Reserved.