Smarty to Break From Outside Post; Colt is 2-5 Favorite for Belmont
Date Posted: 6/2/2004 1:07:23 PM
Last Updated: 6/8/2004 7:36:38 AM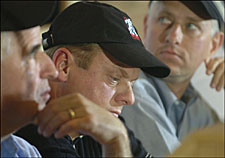 Nick Zito (left), John Servis (center), and Todd Pletcher (right) at Wednesday morning's Post Position Draw for Saturday's Belmont Stakes.
Photo: Skip Dickstein

Shortly before he arrived at Belmont Park after a 2 1/2-hour van ride Wednesday, Someday Farms' Smarty Jones was installed as the 2-5 morning line favorite when he breaks from the outside nine post position in Saturday's Belmont Stakes (gr. I).The Elusive Quality colt will be seeking to sweep the Visa Triple Crown Challenge by adding the Belmont to his previous victories in the Kentucky Derby (gr. I) and Preakness Stakes (gr. I).The undefeated colt is the shortest priced morning-line favorite since Spectacular Bid, who was 1-5 before finishing third in the 1979 Belmont in his failed bid to win the Triple Crown. Purge, winner of the Peter Pan Stakes at Belmont on May 22 but a two-time loser to Smarty Jones in Arkansas, was the second choice at 5-1. Purge, 3-for-3 in races without Smarty Jones in the field, drew the No. 2 gate at Wednesday's post position draw. Also entered were Rock Hard Ten and Eddington, the second- and third-place finishers in the Preakness. Rock Hard Ten, with Alex Solis aboard, was 8-1; Eddington, with Jerry Bailey up, was 10-1. The rest of the field includes Birdstone, at 15-1; Master David and Royal Assault, both 20-1; and Caiman and Tap Dancer, both 50-1. Nick Zito, with five runner-up finishes in the Belmont, trains Birdstone and Royal Assault. Affirmed, the last Triple Crown winner in 1978, was also the last odds-on favorite to win the Belmont. Since then, five horses -- all with a chance to win the Triple Crown -- failed. Real Quiet was the most recent, finishing second by a nose in 1998 as the 4-5 choice. Trainer John Servis said he was happy with the outside post. Smarty Jones left from the No. 13 post in the Derby and overcame a few bumps on the first turn to win by 2 3/4 lengths. ``We can sit outside of horses and he doesn't have to worry about what's going on outside him, just what's going on inside of him, and secure a position by the time he gets to the first turn.'' Servis said Wednesday. Meanwhile, the van carrying the Belmont favorite rolled into the Belmont backstretch shortly before noon after an uneventful ride from Philadelphia Park. The van was accompanied by two New York state trooper cars and one New York City Poilce Department car.The field for the Belmont, in post position order, with trainer, jockey and morning-line odds:1--MASTER DAVID--Bobby Frankel--Jose Santos, 20-1
2--PURGE--Todd Pletcher--John Velazquez, 5-1
3--CAIMAN--Angel Medina--Ramon Dominguez, 50-1
4--BIRDSTONE--Nick Zito--Edgar Prado, 15-1
5--ROCK HARD TEN--Jason Orman--Alex Solis, 8-1
6--ROYAL ASSAULT--Nick Zito--Pat Day, 20-1
7--TAP DANCER--Edward Allard--Javier Castellano, 50-1
8--EDDINGTON--Mark Hennig--Jerry Bailey, 10-1
9--SMARTY JONES--John Servis--Stewart Elliott, 2-5



Copyright © 2015 The Blood-Horse, Inc. All Rights Reserved.