Santa Anita Report: Dixie Union Bows Out On Top
by Craig Harzmann
Date Posted: 12/26/2000 7:35:42 PM
Last Updated: 1/3/2001 7:36:31 PM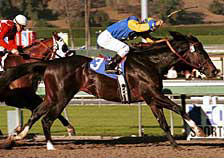 Dixie Union caught Caller One to win the Malibu Stakes on the Santa Anita opening-day card.
Photo: Associated Press/ Benoit

Published in Jan. 6 issue of The Blood-Horse
Alex Solis, decked out in fine threads and swathed in the thrill of Dixie Union's dynamite return in the Malibu Stakes (gr. I), was standing next to a childhood dream. His Porsche 911, the 2001 model. Mint-condition, just days off the lot. It's sleek and stylish, sporting a black coat just a shade darker than Dixie Union himself--and just as fun to steer. "It's like driving this thing right here," admitted Solis, describing the rush of riding the son of Dixieland Band. "It's a great feeling, winning the race, of course. But most of all, it's not the getting to the wire, but the journey that you take before that." Solis--or anyone else, for that matter--had no way of knowing that as Dixie Union munched on his hayrack inside the barn, a small rip had surfaced in a tendon, just behind his left knee. There was still hours before Solis would get word that the Malibu had been Dixie Union's farewell race. Yet he seemed to be speaking metaphorically. He sounded rather poetic. And his words could have very well summed up Dixie Union's all-star career as a racehorse. Dixie Union was special the moment he hit the ground, according to those who knew him. By virtue of his breeding--trainer Richard Mandella had both his dam, She's Tops, and her dam before her, as well--he would have been a star even if he were a plater. When he came out smoking at two and almost shattered a track record in his very first start, the rest of the world was in on the secret. From that point, Dixie Union was always a favorite. He was a clutch hitter, too, a granite-tough colt of reliability respected as much for his bulldog tenacity as for his obvious talent. There wasn't a better 2-year-old out West that summer, when he took both the Hollywood Juvenile Championship (gr. III) and the Best Pal Stakes (gr. III). His dramatic win over Forest Camp in the Norfolk Stakes (gr. II) that fall still gives you chills. Though a hurt knee cost him his best in the Breeders' Cup--and
subsequently sent any Triple Crown hopes up in smoke--Dixie Union came back better than ever this year, his magnum opus a determined victory over Captain Steve in the grade I Haskell Invitational. Every time Dixie Union showed up, he came to play. "The only two times he didn't run," Mandella said, "was the Breeders' Cup when he chipped a knee and then the Travers when he tore his foot off." Just when the momentum of the Haskell seemed overpowering, however, the traffic-plagued first turn of the Travers Stakes (gr. I) sent Dixie Union for a loop. He finished fourth that day, leaving his left front shoe and half a hoof somewhere on the Saratoga main track. His foot was shredded. His whole leg was hot and a bit swollen. Looking back, Mandella now suspects the damage done was far worse. "When you bow a tendon, it's like a little unraveling of a rope," he explained. "Tendons are like that, thousands of strands. When you get a couple of those torn, little by little they're going to keep tearing. But when the first couple ones tear, nobody knows. "I would bet that he probably started that little tear in that jam he got in the Travers," he went on. "Running was what it took to make it come out, I think." No one can tell for sure what caused Dixie Union's tendon to founder, taking with it the hope and optimism of a golden future on the track. But it was indeed poetic justice to see him go out a champ, knocking his final one over the fence on Dec. 26 before a sun-drenched Santa Anita crowd of 29,912. The Malibu was quintessential Dixie. A slight stumble at the break didn't phase him a bit, and when Solis went after Caller One and Explicit three-wide on the curve, you knew they were in trouble. Explicit bailed out, but Caller One hung tough. He made it to the eighth pole--six furlongs in 1:08.77--before Dixie Union finally got him. The margin was a length--the seven furlongs in a sharp 1:21.62. (Can you name the horse Dixie Union beat in his five-furlong debut two summers ago? That's right, Caller One.) With main events like the Strub Stakes (gr. II) and Santa Anita Handicap (gr. I) on the horizon, it was just what Mandella was looking for heading into 2001. The good vibes which teemed as soon as Dixie Union picked off Caller One, however, were quelled the next morning, when Mandella ran his hand down the colt's left leg and felt something out of line. A nuclear scan confirmed what everybody feared. His racing days are done. But his journey is not over. Owned by his breeder, Herman Sarkowsky, and Gerald Ford's Diamond A Racing Corp., Dixie Union will now soon say goodbye to the Mandella crew and likely head back to Kentucky--his birthplace--to begin a new career at stud."He's got class, unbelievable class," the trainer praised. "I've never seen a horse quite like him." Solis rode Dixie Union in every battle but one--and was there for all the important rehearsals, as well. He thinks the colt may be one of the best he'll ever sit on. "He is already," the rider admitted. "We worked so hard and so long with this horse. Horses like him, you get up excited in the morning. You want to come and see him, you want to work him. Just being on him in the morning is a great feeling." The afternoons were just as exciting, too. Opening Day
Take your tape of the $200,000 La Brea Stakes (gr. I) on Dec. 30, rewind a quarter mile, and watch it over and over. You won't see one like it for a long time. With an eighth of a mile to go, everything was up for grabs. Leave it to Spain, the Breeders' Cup Distaff (gr. I) heroine, to come through late, grinding home late to edge Cover Gal by three-quarters of a length. Just a neck away was Serenita, while Chilukki, the 7-10 choice, ended up fourth. Trained by D. Wayne Lukas, Spain, a Thoroughbred Corp. homebred, went seven furlongs in 1:22.27. The history books are strewn with horses who bagged a big one then came back to win it again. Try doing it in the same year. Scott Guenther's Freespool, the Maurice Greene of local dashers, pulled it off on New Year's Eve with his second straight dazzler in the $108,700 El Conejo Handicap. Trained by Ted H. West, the son of Geiger Counter blitzed a half in :43.94, then had enough fuel left to hold off Men's Exclusive by 1 1/2 lengths. Freespool got the 5 1/2 furlongs in 1:02.50, nearly a full second faster than it took him to win the El Conejo in January. Chris McCarron was up each time. The expressions said it all. Kent Desormeaux, poised in the irons aboard Irish Prize, pumping his whip in delight. To his right Manndar, Corey Nakatani standing up but head hung low, pounding his crop down in an exclamation of self-disgust. The $150,000 San Gabriel Handicap (gr. IIT) on Jan. 1 was all about the trip. Irish Prize got it. Manndar didn't, leaving Nakatani as blue as a Boilermaker on New Year's. The nine-furlong race was decided in early stretch, when Desormeaux threw Irish Prize wide, beating Manndar to the only clear path available. The sight of Manndar pleading for room in mid-stretch was quite painful. He finally broke out and blasted forth like a missile, only to miss Irish Prize by a half-length. Trained by Neil Drysdale, 5-year-old Irish Prize races for his breeder, Sheikh Maktoum al Maktoum. If El Cielo is the undisputed king of the hillside turf, then Evening Promise is the course maiden fair. When the game's on down the hill, there's not a female around who can touch her. On Dec. 29, Richard Duggan and James Vreeland's daughter of Aragon came roaring through the stretch yet again, rolling past practically the entire bunch for a splendid two-length score in the $114,400 Monrovia Handicap (gr. IIIT). Kathy Walsh is her trainer.
(Chart, Equibase)



Copyright © 2015 The Blood-Horse, Inc. All Rights Reserved.